07.08.2013 | 14:44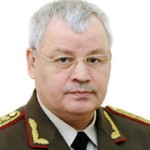 KarabakhINFO.com e journal presents news according to TREND that Azerbaijan's defense minister general-colonel Safar Abiyev during his visit to the United State of America said to the secretary of defense: "Azerbaijan's lands are under occupation for 20 years. The USA and international organizations should be based on the international laws prone to solving Nagorno-Karabakh conflict, they should differ the aggressive side from the country which lands were invaded."
Ministry of defense talked about the military-political circumstances in south Caucasus and uttered that due to Armenian invasion of our lands Azerbaijan has 1 million refugees and internally displaced people. "Unfortunately neither super countries nor international organizations recognize Armenia's invasion fact."
Furthermore, Safar Abiyev added that 907th amendment creates several problems and it contrasts to the United States' foreign policy. Ministry Safar Abiyev uttered to his American colleague that till Azerbaijan lands remain under occupation military-political stability in the region will not be able to construct.
USA's secretary of defense Chack Hagel said to minister of defense Safar Abiyev in the meeting that he agrees with Azerbaijan's statement. He said that Azerbaijan is USA's friend and we will improve strategic cooperation and gradually strengthen it. Moreover, they held profound discussions around military-technological cooperation.
Minister Safar Abiyev touched various aspects of Azerbaijan Republic and the USA strategic affairs. He noted that Azerbaijan put forward practical steps for establishing relations and cooperation of these two states in different programs. He cited that these programs have brought positive consequences in defense field. Minister uttered that Azerbaijan will continue participate in operations in Afghanistan after 2014 too, and he added that this program is supported by NATO. During debates Safar Abiyev expressed the importance of international coalition against terrorism, and the validity of strengthening cooperation.
Safar Abiyev noted the importance of Euro-Atlantic security and Azerbaijan's realized projects around various spheres like energy, communication which turned into very profitable factors in improving strategic cooperation.
Chack Hagel asked from defense minister to bring his warmest greetings to the President of Azerbaijan Republic Ilham Aliyev.
At the end of the meeting Azerbaijan's defense minister gave an invitation letter to the secretary of defense Chack Hagel for an official visit. The secretary said that he accepted the invitation letter with great pleasure.
On the same day minister Safar Abiyev held a meeting with the USA's Secretary of the Navy Ray Mabus. During the conversation they discussed several issues like the security of Caspian sea, current situation of the cooperation between the Navies and the future perspectives.
Azerbaijan's ambassador Extraordinary and Plenipotentiary Elin Suleymanov also participated in both meetings.
Moreover, Azerbaijan's defense minister general-colonel Safar Abiyev who held a visit to Pentagon with the invitation of Chack Hagel, went to the Arlington National Cemetery and visited the tomb of Unknown soldier before the meeting.