15.09.2012 | 13:11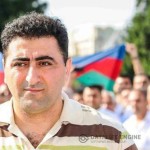 Former German Economics Minister, member of foreign affairs committee of Bundestag, CSU MP Michael Glos, commented on the aggressive position of Armenia on extradition of Ramil Safarov.
Michael Glos stressed that mass protests by the Armenian government and Armenian Diasporas in the world against Germany's friend Hungary within the 20th anniversary of the occupation of Azerbaijan's Nagorno Karabakh and 7 surrounding regions is a disturbing factor. The European Azerbaijan Society (TEAS) told APA.
"Claims on Hungary that this country can ignite the NagornoKarabakh conflict with the extradition of Ramil Safarov are completely baseless and really unacceptable." Besides, initiating new processes of the settlement of the conflict, returning Nagorno Karabakh and 7 surrounding regions to Azerbaijan and stopping misery of refugees, Armenia threatens the sensible negotiations process.
The International Community continues recognizing Nagorno Karabakh as an inseparable part of Azerbaijan. The position of both Germany and the European Union is that the Nagorno Karabakh conflict must be settled by means of peace. The extradition of Ramil Safarov is not illegal, but the occupation of the territories of Azerbaijan by Armenia is illegal. The UN Security Council confirmed this fact in 1993."