05.10.2012 | 12:29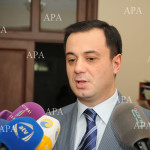 "The people of Azerbaijan approaches religious confessions, as well as religious monuments of Armenia due to the values of tolerance", said Chairman of the State Committee for Work with Religious Organizations Elshad Isgandarov while commenting on the protection of Armenian Church in Baku, APA reports.
Isgandarov said that historical and Islamic monuments of Azerbaijani people are being destructed in Armenia: "State Committee is making a report on destruction of historical monuments in Armenia and in the occupied territories of Azerbaijan. The report will be submitted to the international community soon."
He also touched upon another point falsifying claims on the fact, that Karabakh is, ostensibly an Armenian land: "Documents show that Etchmiadzin Cathedral had no department in Nagorno-Karabakh. Only in the middle of 19th century, the Albanian church in Karabakh was given to Armenians due to a special recomendadtion. Armenians savagely annihilated the archive in Albanian church. But it is impossible to blot out the history. Some time ago, a written document was discovered in Egypt concerning the Albanian church. We will also submit these facts to the international community.