16.12.2013 | 05:16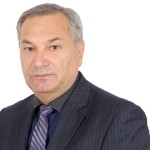 On December 7, 1988 Spitak earthquake in Armenia, known as catastrophic day, in fact, Leninkan subjected the most damages . The distressing day, I have witnessed myself, with a 200 thousand population Armenia's 2nd largest city Leninkan streets resembled actual ruins. According to official data, half of 24000 people the earthquake killed were from this town. Within a short period of time, at that time's whole world came to the aid so, earthquake zone was turned to construction center. With the command of Soviet Union, Ukraine was assigned with the task of eliminating the damage of the earthquake. Chief of Staff, located in the city of Spitak was led by current President of Ukraine Viktor Yanukovych.
9 months after the earthquake when I left my native land, I was thinking that in a short time, the surrounding residential areas of Leninakan will become one of the world's most modern residential areas. But these days, following the Armenian press, I saw the diversity of my thoughts.
I thought that in the 25-year anniversary of the earthquake as it was 2008 Armenian government would celebrate so they will give new hopes people who are still homeless. Because, in the 20th anniversary of the earthquake in 2008, when at that time's Prime Minister Ryzhkov was given a national hero of the Soviet Union, Yanukovic was named an honorary citizen of Armenia and so, his name was given to the central avenue in Spitak. The General Secretary of the Soviet Union Mikhail Gorbachev was declared undesirable person.Although he ordered the elimination of the consequences of the earthquake.
So far, instead of giving hopes of the people living inhuman conditions as populated in shantytowns and wagons , preferred to remain silent than to celebrate the 25th anniversary.
Current Armenian press,cutting their hopes from government more than 25 years, try to broadcast who live on her own account in Gymri. One of these videos we present the readers:
The translation of videos is as follows:
Speaking of an elderly woman – after the earthquake, I live in a shack. Although I complained everywhere, all promised that we will be given home. I do not know where to find who gave me these words later. So we still here, they will give either home or cemetery. But I want to give at least one room house, for my children .They are young and deserve a better life.
This is a request from the government that to give my children after my death a one-room apartment.
They gave me a voucher. It was useless piece of paper at home. I wrote application to City mayor, they came and said harsh words. I hate to say a word most of them. We warm up our shack with corn seeds pieces of wood culled from the trunk, and waste burning kilns .Sometimes we get food from our neighbors.
Sometimes there is no any help. One time a neighbor had brought some clothes, I asked to give me the shoe. These shoes I mean.
Reporters ask the old woman standing at the neighbor door: Aunt is your name in building queue list?
– Yes, but we didn't get anything yet. Here is an upcoming building. There should be our home, but it has not yet been completed. Our two-room house was destroyed in earthquake. My older son went out, the little boy in the 2nd group invalid, I'm with him.
Correspondent: Ms. Seda, what do you live with?
– With scholarship, my son and me get 32min (80 $) drama.
Reporters ask another neighbor how you live.
– They gave a little money, it went, as if the wind took it. I worked for 30 years in various positions. I had everything, now do not work. I took rent a shack, if you see it is horror. Just have to give way.
Another neighbor woman: I live alone in this street, I am 83 years old, cannot see. I am in excessively burdensome situation; do not give me a home. Sorry that I cannot invite you because I have nothingin my shack, inside the boom is empty. (End of video)
There is another more terrifying video: the 5th floor of the building is in dilapidated, a man living rabbits who has higher education. Another patient, a woman and a lonely building. Women who did not receive any help from their husbands left with 3-5 children, and the women who left their families and go for"work" in Turkey.
Finally: You can read about the amazing applications of people who live without gas , water and electricity in the new buildings in the next article .
Tanriverdi Ismayil
BSU senior fellow in the laboratory of Armenian Studies
"KarabakhİNFO.com"