13.08.2013 | 10:17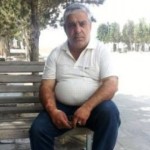 Bayramov Tahir was born in Agdam region in 1960. He is married and has 4 children. He participated in the first Karabakh wars during 1988-1994. Several heroic warriors were killed by Armenian aggressive forces in the war against Azerbaijan. One of such people was Tahir Bayramov who was known with name of Smertnik Tahir. We heard about him a lot, however we knew that he does not to give interview to anyone. On the commemoration day of Azerbaijan's National Hero Fred Asif we saw him in the grave yard. I introduced myself and said that I am a member of "KarabkhINFO" international journal and asked him to talk about his struggle way and inform our readers. My first question was following:
–  Mr.Tahir, you was the first warriors of the war. How do you remember the war and when did you decide to fight?
–  In 1988 we did not feel the war yet. Therefore, there were not any fights. However we knew that Armenians had several land claims against us and they were intentions to start the war. In previous times we did not believe in that. They always chased to be face to face with us. When we heard that they threw stones to the buses which go to to Asgaran, Shusah, it hurt us. Armenians in Agdam always knew our strength and first martyrs of Karabakh war Ali and Bakhtiyar startled them. Several men from Aghcabadi, Yevlakh, Barda, Tartar, Ganja and various other places came to help us when the war started. Who was an Armenian for fighting with us? They always believed in Russians.
     –  Mr. Tahir, from where did you start your fight and which struggle was your first?
–  Those wars were simple and little ones. I started in guerrilla groups around our village. We spent much time around Jimry village, in particular I trenches, in frontline and positions. We gathered there before Khojaly massacre, the army could be formed yet. Rest in Peace Shirin Mirzayev, Fred Asif who established a very strong group like a battalion. Farid Mirzayev's group from one side, Fred Asif's group from the other side, Yaqub Rzaiev ( who was popular with Qatir Mammad name) and Allahverdi's groups from other positions supported our lands. There was a weapon among ten people. There were teenagers at the age of 14-15. We did not want to join them to our groups. However they begged us, for carrying us bullets. They carried weapon boxes, bullets for armors. There were a lot of kids like them. We can not erase them from our minds. Turkish journalists came to video shooting. We did not allow them, because we did not have conditions. After shooting and broadcasting Armenians could watch and see that we did not any trenches and barricades for supporting ourselves.
     –  If the road from Askaran to Agdam was not opened on the day of Khojaly invasion what could happen?
–  If there was not an attack from Agdam to Askaran and the road between Khankandi and Shusha was not opened it was impossible to rescue Khojaly residents. If we did not free Kara Kaya lands with the last drop of our blood, none of Khojaly residents could survive.
    –  How many Khojaly people approximately you met?
–  I cannot tell you an accurate number, but they were hundreds. We did not meet them in one side only. Our soldiers tried to prevent Armenians from Abdal-Gulabi village till Shelli countryside for rescuing khojaly people. Fred Asif and Allahverdi Baghirov from one side, Yaqub Rzaiev from Karabakhchi graveyard, Janpolad Rzaiev with his tank hit directly towards enemies' valuable and hot points. A dozen of our soldiers were killed due to rescuing people from Khojaly. However, Armenians claim that they gave a corridor to our people. They are lying. Armenians followed the people who ran away Khojaly for killing them. They opened a tiny path next to Nakhchivanik for gathering people who ran and killing them. There was a farm where you can easily see Pir, Nakhchivanik, Khanabad and Khoramud villages and instigate in a second.
 –  According to your words, it means that Armenians wanted to devastate Khojaly people thoroughly.
–  Armenians reached their desires in halfway. They killed a lot of people and tormented others. They took their internal organs and sold them. This is a small sample for showing Armenian violence.
   –  Mr. Tahir you probably were in several places and participated in different battles against Armenians. Which of them do you remember?
–   I participated in the battles held in 1992, june where we got back seven villages- Aranzam, Dehraz, Aghbulaq, Pirjamal, Nakhchivanik, Farrukh, Pir. I am a witness when Armenians ran away from our lands with fear. We obtained several techniques which they left during running. Mine throwers and an armored technology, two Zil-131 military cars. The car was full of projectiles inside and it was a greatest discovery for us in that time. Because we needed these weapons. We took that car from the battle ground with doctor Nuri who was from Fred's battalion. Then we took the wounded to Military hospital and our martyrs to Agdam mosque. National Hero Chingiz Mustafayev recorded all these events. However we could not see those fragments anywhere again. I went back to the battleground again and learnt that my brother(he was killed heroically in Karabakh war)Mazahir Bayramov got an Armenian tank and eradicated armenians' techniques. Adishirin from Shirvan city was killed from our warriors. Tahir and Abdul Shahin were seriously wounded. We should go forward for rescuing our wounded, however two BMP+2 did not allow us. We guessed that they are Armenians. They wanted to defeat us and take hostages. An Armenian waved to us for showing our wounded people. My friend understood it and killed that Armenian. Nevertheless it was impossible to fight against military equipments. I drove the car very fast downward and we could rescue ourselves and wounded friends.
   –  Mr. Tahir, if the Supreme Commander orders now are you ready to wear your soldier uniform again and go to fight?
–   What a question, certainly, I am 53 and I have 4 children. If he orders I will take my kids and go to the most difficult regions. Everyone should now that Karabakh warriors will not allow to Armenian terrorists to stay in Azerbaijan lands anymore.
Hafiz Safarov  
"KarabakhİNFO.com"