09.06.2014 | 15:30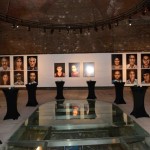 More than 200 guests attended the opening of an emotionally-charged exhibition focusing on the stark faces of some of the estimated about 1 million Azerbaijani refugees and Internally Displaced Persons (IDPs) – the ongoing victims of the Nagorno-Karabakh conflict – in the 14th Century Tophane-i Amire Culture and Arts Centre (Mimar Sinan University) in Istanbul on 5 June 2014. This moving exhibition is organised by Turkish office of The European Azerbaijan Society (TEAS), and showcases the outstanding and inspirational work of the renowned German photographer Philipp Rathmer. He has previously photographed celebrities such as Michael Schumacher, Lady Gaga, Jay Z, Sophia Loren and Luciano Pavarotti. Attendees included television personality and author Pelin Batu; Inci Aksoy, Chair, Education, Culture and Research Foundation; actress Wilma Elles; Beyhan Murphy, Art Director, Istanbul Opera and Ballet, renowned gallerist Murat Pilevneli; Zeynep Dereli, President, Turkish-American Business Association; and Mustafa Kemalettin Eruygur, Turkish Consulate-General to Belgium.
All 50 photographs were taken in Azerbaijan in the IDP camps of Takhtakorpu and Gunzali, near the Armenian border, and Darnagul and Gizilgum, located north of Baku. Rena Rzaeva, Istanbul Representative, TEAS Turkey, posed some pertinent questions: "I would like to ask you all – have you ever been expelled from your own home? Has your land been unlawfully taken away? Have you been forced to move to another place – a place that is unknown to you? In Azerbaijan, one in nine people live as refugees and IDPs, and approximately one-fifth of Azerbaijani land remains under Armenian occupation. This has continued for over 20 years, this human tragedy unfortunately still continues, and this critical problem remains unresolved. As Azerbaijanis, we are requesting the return of our rightful lands, and seek peaceful resolution of the Nagorno-Karabakh conflict."
Rena then made reference to some of the photographs on display, saying: "Surrounding us tonight are the different faces of young and old men, women and children. Each individual reveals their own personal story of this tragedy in their own way." She focused on the image of the most elderly person photographed for the project, commenting: "Let me introduce Samaya Mammadova to you. Samaya was 86 years old when she was photographed, and it's as if the wrinkles on her face depict her experiences. Prior to the Armenian occupation, Samaya fled from Shusha with her family. Her son volunteered to go to the front. In 1992, he was officially recorded as 'missing' and his fate remains unknown. After losing her husband and daughter, Samaya was left alone, and she now just has one wish – to be reunited with her family in the other world."
Rena then made reference to one of the youngest photographic subjects: "At just eight years of age, Afat Karimova is still a little girl. Afar is eagerly learning English so she can explain to the world about her hardships and experiences growing up in IDP camps. Perhaps by looking at these Azerbaijani faces you can see and share their pain."
Philipp Rathmer explained his approach to the subjects: "I aimed to represent the suffering of these people by focusing on their faces in extreme close-up. Each subject was shot in exactly the same way, against a black background, lit in indirect sunlight, emphasis being placed on capturing the faces and stories of the people. You can see the problems in their eyes and wrinkles.
"The focus was on the human situation – I noted each subject's name, age, occupation, name of the camp in which they lived and the town from which they had been displaced. They also spoke of their aspirations, one of which was common to all – they wanted to return home. The subjects were aged from six to 86 years, so some have never even seen their homeland. Their faces show the pain and suffering, but also capture their hope of returning home one day, using one of the five roads that lead to the occupied districts – one of the Five Roads Back Home."
The conflict between Armenia and Azerbaijan began in the late 1980s, leading hundreds of thousands of Azerbaijanis to leave their homeland. Azerbaijan now has one of the highest refugee and IDP populations in the world. Despite four UN Security Council Resolutions being passed nearly 20 years ago against the occupation of their native soil by Armenian armed forces, these people continue to live in camps across the country.
"KarabakhİNFO.com"