12.02.2013 | 11:02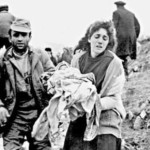 Due to Karabakh.info.com based on the information of "Day..az", the official site of executive organ of Arkansas state of the USA shared the information that the Representatives House of the State recognized the Khocali Genocide.This decision of the project was in the agenda due to the representatives of the house Jonathan Barnett and Karen Chopper.
It is stayed in the document that in 25-26 February of 1992, Armenian troops and Russian troops occupied the Khocali city of Mountainous Karabakh. Azerbaijan population was exposed to the slaughter and about more than thousand people were killed. It is noted that, women and children were majority among murdered people.
In the night of 26 February of 1992, Armenian military forces with the participation of Russian 366th Motor Rifle Regiment attacked to Khocali which was in blockade for a long time and destroyed the city in one night.
During this bloody action, peaceful nation were inflicted reprisals, 613 people were killed, the bodies were insulted, and about 1275 people were captives. There is no information about the life of 150 people among them. There were 63 children, 106 women, 70 old men among killed people and about 8 families were destroyed absolutely.
The conflict among the two states of South Caucasus began in 1988 as a result of land claims of Armenia against Azerbaijan. The Mountainous Karabakh. 7 region- about 20 percent of Azerbaijan territory is under the Armenian occupation.
In May of 1994 the sides signed the ceasefire regime and until today the negotiations under the chairmen of OSCE Minsk group and Russia, France and the USA.
The four decision of the UNO Security Council about the free of Mountainous Karabakh and regions around which were occupied, has not been fulfilled  by Armenia yet.
Day.az