21.08.2013 | 16:55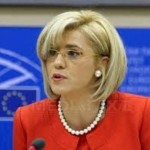 As it is known, the decisions of the UN Security Council are binding by International Law. It is not understandable why this 20-year-old existing requirement for the withdrawal of Armenian soldiers is still not implemented. Moreover, the peace negotiations initiated by the OSCE are repeatedly stalled.  These opinions were expressed by Corina Crețu, MEP. Replying to a survey on the Armenian-Azerbaijani conflict over Nagorno-Karabakh from The European Azerbaijan Society (TEAS), she stated the followings:
"The Armenian people must live within their legitimate boundaries of International Law. This regards above all the refugees who had to leave their home towns and wait for return till today. The territory of Azerbaijan must be fully restored. This entitlement is rightfully claimed by Azerbaijan.
The European Union Enlargement Commissioner Štefan Füle had in a speech on the beginning of May in Baku stated the interest of the EU to further strengthens the relationship with Azerbaijan, in addition to the Eastern Partnership. The Azerbaijani- European cooperation has very promising future perspectives that should be courageously used by both sides. For this to happen more stability and security in the Southern Caucasus is needed. Thus a permanent solution for the Nagorno-Karabakh question is needed.
The European interest is a peaceful and secure Southern Caucasus region, which converges with the structures of the European Union. Therefore the accession treaties are being negotiated. Štefan Füle said in Baku that the Eastern Partnership should strengthen the ties between the Azerbaijani people and the European peoples. A stable political environment is a necessary condition for this. However, the conflict over Nagorno-Karabakh produces exactly the opposite. It brings a high escalation potential. In this sense the EU must perceive its role in the peace negotiations stronger than before."
"KarabakhİNFO.com"