17.04.2015 | 17:29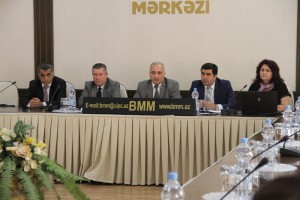 April 18 is celebrated as an International Day for Monuments and Sites annualy according to the decision of UNESCO's General Assembly of The International Council on Monuments and Sites (ICOMOS) adopted in April 18, 1983. On this occasion, with the participation of journalists, historicians and the accredited representatives of diplomatic corps on support of the Association for Civil Society Development in Azerbaijan (ACSDA) and KarabakhINFO.com, the International Electronic Magazine, an event dedicated to the International Day for Monuments and Sites was held on April 17, 2015 at the International Press Center. The representatives of the Russian Embassy, Embassy of Greece, Embassy of Malaysia, Embassy of Mexico, Embassy of the Republic of Moldova, Embassy of Jordan, Embassy of Saudi Arabia participated at the event.
Mr. Alibayov Vali, the I Vice-President of ACSDA opened an event with his speech, noted the importance of this Day and gave the floor to rappporteurs. A senior lecturer of the Azerbaijan Tourism and Management University, doctor of philosophy on study of art Minakhanim Asadly, ACSDA Expert, PhD in history, a senior lecturer Maharram Zulfugarly and a lawyer Shahin Djamalov took floor as rapporteurs. During their speeches the rapporteurs spoke about historical monuments at the territory of Azerbaijan, which is of above 3 thousand years statehood history and informed participants that Azerbaijan, located in the strategic area and being rich of natural resources has constantly been suffering as a result of foreign invaders and the majority of historical monuments have been destroyed as a result of wars and natural disasters happened in this territory.
An appeal regarding with the protection of historical sites located at the occupied territories of Azerbaijan was addressed to the international organizations during the event on behalf of the Round Table participators organized by the Association for Civil Society Development in Azerbaijan on occasion of the International Day for Monuments and Sites.
It should also be noted that the Association for Civil Society Development in Azerbaijan has been contributing decently to the organization of historical sites investigation and protection besides other issues since 2004. An expert group of the Association made monitoring and investigation of historical and cultural monuments in Agjabedi, Agdam, Barda, Goranboy, Tartar and Yevlakh regions under the project "Sarsang – Prevention of Humanitarian Catastrophe" on 2012-2013. Based on materials gathered as a result of this wide activity, a book in Azerbaijani, English and French versions titled "Sarsang SOS: historical and cultural monuments in danger" was published.
ACSDA PRESS SERVICE