24.11.2014 | 10:23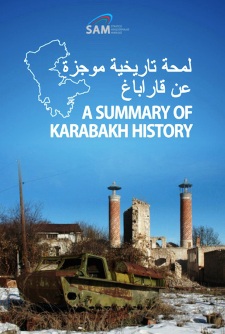 SAM published the book of "Summary of Karabakh's History" in the Arabic and English languages.

According to SAM, the book of "Summary of Karabakh's History" is mainly about political history of Karabakh region.
It is noted that, not only the territory of Nagorno-Karabakh have been occupied by Armenians, but also national and cultural monuments which formed historically, as the stone memory of our history and national and religious values.
As proof of this there are attached photo-materials about historical and cultural monuments in destructed and looted old settlements in Karabakh.
These topics are discussed in the book: "Karabakh-the history of Azerbaijan and geographical region", "The fate of Karabakh khanate", "Deportation of armenians to the territory of Azerbaijan", "The creation of armenian state", "Nagorno- Karabakh under Azerbaijan Democratic Republic (1918-1920)", "Karabakh in the period of USSR", "Nagorno- Karabakh conflict (war and occupation)", " The destruction of Islam and historical monuments in Karabakh".
You may read the book in the link below:
http://karabakhinfo.com/wp-content/uploads/2014/11/A-SUMMARY-OF-KARABAKH-HISTORY.pdf
"KarabakhİNFO.com"