23.10.2014 | 17:12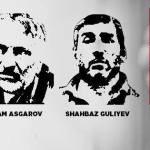 Virtual campaign has organized to claim immediate and unconditional release of illegally detained civilians – Shahbaz Guliyev and Dilgam Asgarov by Armenian Armed Forces in the occupied Azerbaijan territories by reason of moving from one place to another across the country, in the borders of their own country recognized by the world and the UN.
In the virtual campaign is asked: Why International organizations which involved human rights don't comment on captive Azerbaijanis by Armenians in Kelbejar and don't call Armenia to release of them.
A passive activity of the International Committee of Red Cross (ICRC) in return of Dilgam Asgarov and Shabaz Guliyev and making statements to justify holding the "court" by the separatist regime in Khankendi on 27 October, 2014 against international law norms is criticized strictly.
The International Committee of the Red Cross and the OSCE Minsk Group co-chairs are required to make statements and operate in accordance with their mandate.
"SaveAzeHostages" virtual campaign causing a wide range discussion of social network users in Armenia aims to support the government's intense activity for the release of Dilgam Asgarov and Shahbaz Guliyev.
People who joined this campaign wrote these words " This campaign for concern every international organization which should be worried about the fate of the Azerbaijani hostages" and called for social network users not to keep silence on this issue.
The campaign is being carried out at these addresses:
https://www.facebook.com/events/303922283130654/
#GirovlarimiziAzadEt
#SaveAzeHostages
#SauverLesOtagesAze
#CпасемAzeЗаложников
#Փրկենքադրգերիներին
"KarabakhİNFO.com"