29.01.2013 | 13:17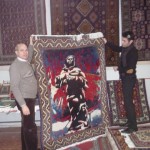 Herodotus, Claude Elian, Xenophon and other old world historians gave information about the carpet making in Azerbaijan. During Sasani period (III-VII centuries) the carpet making art in Azerbaijan improved. Carpets were made from the golden-silver threads, silk and so on. Albanian historian Musa Kalankatli (VII century) informs us about the silk textile and colorful carpets weaved in Azerbaijan. The carpet which were weaved with golden-silver threads and were decorated with jeweler became tradition in Azerbaijan in XVI-XVII centuries.
Our interviewer is the chief director of "Azerkhalcha" producing unit, Elisapha Nuriyev
– Mr. Elisapha, in Middle Ages the main producing centers of the carpets weaved with golden-silver threads was Tabriz, Shamakhi and Berde. But, which cities are going on this direction today?
– Generally, since 1927 the centralized system of carpet making has been formed in Azerbaijan. In Soviet period they could direct the conceptual development of northern Azerbaijan carpet making. It consists of this. There were traditional carpet-making in regions in that time. I mean, everybody was weaving Azerbaijan carpets at home. "Artills" were formed then and by means of those "Artills" the "Centralized Control System" was formed in order to export those carpets to abroad. In that period there were Quba carpets, Shirvan carpets. It also meant that new workplaces were opened. In this case, they widened those "Artills" and established "Azerkhalcha" producing unit. Our unit is about 85 years working as "Azerkhalcha Scientific Creative Producing unit".
– In XIII-XIV centuries Azerbaijan exported many carpets and carpet examples to abroad. Those carpets which attracted attention with fine ornaments, tender patterns had reflection in masterpieces of popular European artists. There were image of "Shirvan" carpet in Nederland artist Hans Memling's masterpiece "St. Maria with her baby", "Zeyve" carpet in "St. Maria" masterpiece of Van Eyk, "Qazakh" carpet in "Les Miserables" masterpiece of german artist Hans Holbeyn (XV century). What works are done in this direction now?
– Generally different from drawings, they are presented in photo presents of masters like L.Kerimov, K.Aliyev and so on. Though L.Kerimov is one of the founders of this genre K.Aliyev improved it. This genre, carpet making genre was formed in Azerbaijan in 1950 years. I have seen such screened carpets in Tabriz, Ardebil and so on. Though they try to reach to the level of those screened carpets in Azerbaijan, they cannot reach the carpet making inheritance of K.Aliyev. Generally, when I speak about Azerbaijan carpets, I am not limited with Azerbaijan boundaries. Azerbaijan carpets spread to the wide territory. Today's Irevan khanate, in the territory of falsified by Armenians, are territories which have deep ties with carpet making. Then we can speak about Tabriz, when I speak about Azerbaijan carpet I cannot differ it. Carpets weaved in Ardabil, Tabriz, in one word; in South Azerbaijan are Azerbaijani carpets.
– The carpets which brought from Baku, Quba, Shamakhi, Gence, Sheki, Qazakh, Cavad and so on were demonstrated in "General Russia industrial and art exhibition" in Moscow, in 1872. The best examples of them were awarded with golden and silver medals. The main part of exponents which were demonstrated in Vienna (Austria) in 1872, in Turin (Italia) in 1911 and in London and Berlin in 1913 were consist of the carpets brought from Azerbaijan. Today do Azerbaijan carpets present such awards?
– The main period of "Azerkhalcha" was in those days. In Soviet period, we were the only enterprise representing SSR. In that period, as there was step, dual approach to Azerbaijan, the awards which we got were going to the name of SSR or were used generally. They did not call our name. But when they did this they did it with great envy. Now "Gulustan" carpet is weaving in our enterprise. This is one of the masterpieces of sister of K.Aliyev. Today we present it as the national product of Azerbaijan nation. It is in mass production too and is called "Gulustan". It has got "Golden medal" in Lexica.
– Our carpets are demonstrated in "Metropolitan" museum of New York, in "Victoria and Albert" museum of London, in "Louvre" museum of Paris, in "Topkapi" museum of Istanbul, in other popular museums of Rome, Berlin, Tehran, Cairo, Moscow and Vienna. So pity that they are not called with the name they belong to. They are presented as "Iranian carpet" or "Caucasian carpet". It was proved that "Dagkesemen" Qazakh carpet (XIII century) which Armenians called Armenian carpet in Kiev art museum belongs to Azerbaijan. What measures are done in order to prevent other nations, especially Armenians to call our carpets as their?
– If I would tell that we are fighting with Armenia in this case it would be big. But there are individually struggles. The biggest struggle is that, our Mehriban Aliyeva the representative of Azerbaijan in UNESCO added Azerbaijan carpet making to the list of UNESCO. It is approved and noted there that carpet making is valued as Azerbaijan Mugam. This is a big strike to Armenians. There is Ramiz Meshedi Hesenli, who is a European reporter in AZTV. He prepared special program in Hamburg City of Germany. In one shop Azerbaijan carpets were sold by name of Armenian carpets. Even it was written "Armenian hand making carpets" in front of the shop. Of course, Armenian there did not let Ramiz to make shoots. There were Azerbaijani carpets inside the shop, especially Quba and Shirvan carpets. I acquainted with one carpet maker who were from Tabriz but lived in Germany two years ago. Then he came to Baku and we had a conversation about carpets. He said: "There is a big library in Berlin. While I was making research about the Azerbaijan and Caucasian carpets, I saw many books about Azerbaijan carpet making. Then when I went again for those books, they were not there. They told me that, there are no such books here". I learned that those books were republished by Armenians. And they wrote Armenian instead of Azerbaijan everywhere. Nowadays we presented a book of Firudin Agasiogly "The magical Pasriq carpet of Karabakh". The "Pasriq" carpet is 2500 year old. As a result of researches and based on patterns on it, we defined that is was Azerbaijani carpet. Also we made carpet named "Khocali tragedy". The idea author of that carpet was the vice-chairman of mayor of Khocali region Vahid Aliyev. The artist of the carpet was Aydin Recebov, Famile Veliyeva and Refiqe Abbasov weaved the carpet which had 1.5-2.07 sizes.
While we were in weaving workshop with Elisapha, we met guests come from Canada. Elisapha noted that, today the weaving workshop attracts both, the local people and tourists.
Vasiph Alihuseyn
"KarabakhINFO.com"