25.01.2013 | 12:11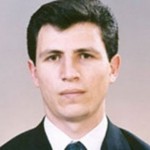 The global economic crisis stroke Armenia so hard that it cannot be normal yet. Now, the economical situation in Armenia is miserable. Already the country is saving the financial means. Armenia has already passed to quarterly planned system of budget. It is some years that Armenian state stopped the work of middle periodic expense program. The foreign debts of country increase every year. At the same time the country depends on humanitarian aids. In January and November of last year Armenia has got 55.9 billion dollar humanitarian aid. In compare with analogical period the size of humanitarian aid decreased 2.9 percent of 2.5 billion dollar. The financial crisis also made criminal situation intense in the country. Armenian police also confesses this. The count of crimes done in the country increased sharply. Such situation does not promise Armenia any positive perspective. Experts tell this to "KarabakhINFO.com". Deputy Zahid Oruj told to our e-journal that Armenia could not reach to the achievements last year. Due to him, it shows itself due to some components: "Gross domestic product, budget and some means which were distinguished for different fields went backwards. Actually, the migration of population from country increased. The official statistical office of the country noted that about more than 92 thousand people left the boundaries of country and did not come back. In this background, I think that, if citizen do not want to live in Armenia, they would not want to live in Karabakh under the twofold life dangerous, social problems and other risqué" Due to the words of deputy the Sarkisyan future of Armenia will go on: "The brake in the country and deepened economical problems will show itself more salient. There is high probability that there will be serious conflicts. Sarkisyan came to the government on bayonets. He will meet with the struggle of big forces in second elections unlike the first elections. Those forces will make real steps to recover their trampled political-economical rights. There is no doubt that, this case can show itself in different forms".
"It is impossible to promise different social tomorrow for Armenia"
Z.Oruc thinks that the economical future of Armenia is related with Iran in this period. "In such situation a country cannot develop. The country which deprived itself of the wide relationship with Azerbaijan and Turkey decided to live in isolates condition actually. In this case it is impossible to promise different social tomorrow for Armenia." He says that, in the next period, Armenia will try to use the opportunities of Russia: "As I know, new programs are applied in many fields. But the given of new guns and increase the Russian military forces there and so on. proves that Armenia does not see itself in different status. It is situated in such geography that, it is impossible for them to find ally in West. In this case they should pass from Turkey. This is unreal due to known political reasons. That is why I don't wait for different situation in Armenia. In this case, the reelection of Sarkisyan gives opportunity to revenge of Azerbaijan nation by his hand from Armenians".
"The situation of Armenian economics makes danger for statehood"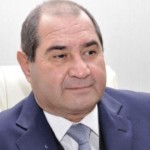 The director of the Center of Political Innovation and Technology, politician Mubariz Ehmedoglu told to us that, the situation of Armenian economics makes danger for statehood: "The World Bank and International Monetary Fund defined graphic for Armenia. Due to that graphic, the annual development temp of Armenia should be at least 7.5-8 percent. Prime Minister Tiqran Sarkisyan says that, the annual development temp was 7 percent. The Europe Reconstruction and Development Bank, The World Bank and International Monetary Fund note that is was only 4, 4.5 percent. There should be minimum 8 percent development temp in order Armenia could serve the foreign depts. This temp should increase year by year. For example, the 8 percent development temp for 2014-2015 years will not help Armenia. In order to give the percents of credits until 2012 year, the money which Armenia distinguished was about 250-300 billion dollar. In 2013 they should distinguish about 400 billion dollar for this. In 2014-2015 this sum can increase. Imagine that, if they will not be able to pay 400 billion, then its percentage also will be into account". M.Ahmedoglu noted that the foreign countries never deleted the debts of Armenia until today: "But the aid programs are realized expediently. For example, the 30 percentage of money which is distinguished by European Union is aid. China helps Armenia every year. The USA helps this country for long years. The USA aids which were given to independent Armenia is about 2-2.1 milliard dollar. Last time this sum is decreased. Russia does not help Armenia. Nobody wants to delete the debt of Armenia. The USA had the program named "The call of thousand years" which was valued about 235 billion dollar. Half of that program realized, and then the USA stopped the program".
Due to his words, Armenia is by Iran after the Russia due to finance: "Iran distinguished investment project valued 330 billion dollar for Armenian budget in 2012. Want to note that, the investment packet which is considered for Armenia by Iran is 751 billion dollar."
Politolog noted that the Armenian budget is formed by transfers come from Russia: "This money is about 1.2, 1.3 milliard dollars. The most important means which participates in the formulation of budget and coming from aside is credits given by the World Bank and the International Monetary Fund."
He told that the role of Armenian Diaspora in formulation of Armenian budget is not so bif. M.Ahmedoglu also explained why Armenia does not attend in Davos forum: " One of the problems which is discussed active in Armenian society every year is why Armenia does not participate in Davos Forum? They say that, Azerbaijan always, Georgia sometimes participates in Davos Fodum but Armenian president never attends there. It means that the reality and counts about the economics of Armenia is different from what the state officials say. Not only are the thoughts about the economical development of country, generally about the economical development perspectives different and not suitable for reality".
"Armenia practically spends more than earns"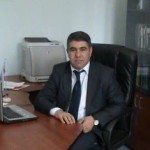 The chairman of the Center of Economical and Social Development Vugar Bayramov told that, serious social problems in economics of Armenia were observed in 2012: "The official statistical office of Armenia notes that the level of poverty in country is about 12 percent. But in reality the level of poverty in Armenia is about 30 percent. It means, every man from 3 is poor in Armenia. At the same time the level of inflation in Armenia is high. It is because Armenia is the most monopolized country of ISU. The level of annual inflation in Armenia is about 9 percent. This is one of the highest counts for ISU countries."
But V.Bayramov tells that Armenian economics depends on Armenian Diaspora: "These aids cannot guarantee long period support for Armenian economics. Because such aids go mostly to humanitarian sector. And of course it does not have any positive influence to real sector." The chairman told that, one of the most serious problems of Armenian economics is that their foreign debts are high. "Today the foreign debts of Armenia are more than 8 milliard dollar".
He noted that the last year the social problems in Armenian economics deepened more: "Nowadays, the development of Armenian economics depends on only liberalization and establishment of normal relationship with neighbors. It is because; one of the main problems observed in Armenian economics is their annexationist politics. As they invaded Azerbaijan lands, they are not let to participate in regional projects. And it limits the exit of Armenia to regional trade market. If they will give up annexationist politics, it can influence positive to their economics. But it is a pity that such politics is not observed".
Due to him, as the income from state budget of Armenia is low, the share of country in regional budget is low too: "Armenia practically spends more than earns. It is resulted with deficit in budget. The sum of deficit in budget for 2012 year is about 200 milliard dram".
Fuad Huseynzadeh
"KarabakhİNFO.com"