24.05.2013 | 15:50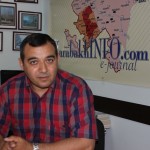 Some say they sold, some tell they occupied, some say they could not defend Karabakh..
We defended, defended until the last drop blood. We died, revenged, gave martyr for faith. But…
We lost many things. Mainly we lost our lands, our careless childhood which we can never return. And also we lost our hero sons. Those sons that Armenians passed over their bodies and occupied Cebrail, Zengilan, Agdam, Shusha, Lachin, Agdere, Qubadli, Fuzuli. As they told when they were alive…
Karabakh war did not take our sons from homes but also from motherland. As martyr for faith Baloglan Suleyman Suleymanov. War also showed the true face of most people. When most people hid in order not to go to the fights, four member of Suleymanov family- Baloglan, Elman, Saleh and Khanoglan went to war together. Now we will remember those days with brother of martyr for faith Baloglan Suleymanov, Elman Suleymanov. Though his fight way is so rich that can never be written in one novel, Elman Suleymanov does not want to speak about himself.
"It does not become me to speak about myself but not about the heroism of Baloglan. He was not a brother but hero. I do not need to speak about myself but not about his heroism".
When we learn that, he took the body of Baloglan that stayed in enemy side alone not as brother but brave fighter, it is impossible not to be surprise to his modesty.
"We were 5 brothers in family. In 1992 I and my three brothers served in National Army. Baloglan was tank commander. As he was mechanic for profession, he knew the language of tank better. We participated in many bloody fights together. Once Armenians attacked from direction of Shayifli village. There were about 500 Russian soldiers among them. They called our detachment for help. We went to back of Armenians to repulse the attack. But as the enemy was informed about this, they set trap. We made efforts but could not escape from siege. Then we throw ourselves to Okhcu river and though it was hard could go back"
Baloglan and his son Sadig
The first martyr of the family- 10 year old Sadig
Suleymanov family that was armed to defend Zengilan gave first lost in August of 1992. In 21stAugust 10 year old son of Baloglan Suleymanov died tragically because of projectile shot from Armenian tank:
"At that time I was in regiment. When I heard that hard fights are going on in direction of Rezdere village I armed at once and went to our village with my friend Namiq. When we arrived to village heard that Armenians killed my nephew Sadiq. I went to home directly. I saw that they put the body of Sadiq in the middle of yard and wrapped him to white sheet. Like I lost the world. I took my gun. Then Baloglan came. We left the body of Sadig in the yard and attacked to Hend settlement where Armenians lived. For a while we shot with tank to the settlement and then returned. People already buried Sadig. Baloglan said that, if he will not revenge, he will not go to the grave of his son. In the evening me, Baloglan, Elshen, Namig, Penah went to revenge from Armenians. We went until morning by forest and arrived to Armenian village. We saw that some shepherd graze sheep. All of them were old Armenians. Though enemy hurt us hardly we could not kill old men without gun.
"He embraced grave of Sadig and told… "
In 22nd August from morning till night we looked for the tank that killed Sadiq. We found position in altitude named "Qizlar agaci" (Tree of girls). There is a road from Hende settlement to "Qizlar agaci". We knew that tank will go by that road to "Qizlar Agaci" and shoot villages of Zengilan. We did not leave our position until morning. In the morning at 6 o'clock saw a "Niva" was coming to us. There were four Armenian militaries inside the car. We shot with machine gun to Niva and killed all of them. Then went far from that place. After going 5 kilometer we choose position near Kilse church. It was easy to observe the movement trajectory of Armenian tank from here.  We waited there from 7 o'clock morning until 2 o'clock afternoon for the tank. We were hungry for three days. Though we were weak from hunger and sleeplessness nobody wanted to leave. We took an oath that if we will not revenge Sadig we will not return to the village. Even killing four Armenians in "Niva" did not make us calm. After waiting for a while, we went to the back of Armenian post situated face to face Kollu village. Baloglan told that he will kill Armenians in "blendaj" and we should kill soldiers in post. The operation began with the sign of Baloglan. He shot with machine gun to the inside of "blendaj". We shot to the soldiers in post. After the soldiers in Post were rendered harmless, we went to help Baloglan. We saw that he killed most of soldiers in "blendaj" with machine gun. Our aim war to kill all Armenians in "blendaj". That is why we threw 18 grenades inside the "blendaj" and did not give opportunity anyone to live. In the next day we learned that killed 25 Armenians with the soldiers in post. We finished operation successfully and returned to village. We all went to the grave of Sadig. Baloglan embraced grave of Sadig and told: son, I revenged you, sleep comfortably".
Could get the tank after three days
Baloglan Suleymanov was able to get the Armenian tank that killed his son in 10th April of 1993. Then Azerbaijan army attacked to the Hend settlement and Kilse village where Armenians lived:
" After Baloglan destroyed Armenian post situated face to face with Kollu village of Zengilan, he was appointed commander of intelligence regiment. That time I also served there. There were 100 soldiers in our regiment. We were charged to go by mountain way and encircle Shikhaviz village. We went to the back of Armenians at 6 o'clock in the morning and encircled the village. After some minutes we got fight order. Our first job was to kill the staff of tank that killed Sadig. But we did not harm tank. When we got it we attacked to the Kilse village situated near. There was hard fight among us and Armenians. We took the settlement and two villages where Armenians lived in that day. We took 1 tank, 1 machine gun, 2 big cannons and about 100 guns as trophy. During the fight for Kilse village one bullet shot me by Armenian machine guns. Because of the strike the armor in my body was broken in pieces. That day I stayed alive because of miracle"
The load of brother
In 25th October of 1993 Suleymanov family gave the second martyr. The commander of intelligence regiment Baloglan Suleymanov became martyr for faith in that day:
"As Armenians closed Horadiz way Zengilan stayed in siege. Baloglan tried to prevent Armenians to enter Zengilan going to the territory of Cebrail region with his regiment. He resisted to Armenians with his soldiers in the night from 24th October to 25thuntil the 5 o'clock morning. But as most of his soldiers were martyr for fair, Baloglan wanted to withdraw to Araz shore with some people. Armenians killed Baloglan and other soldiers in trench.
As that time I was working as the assistant of headquarters chief, I learned about that fight late. They did not tell me that Baloglan became martyr for faith. They told that he passed to Iran with his regiment. I did not believe in those words. Told that Baloglan would die but would not run in front of Armenians. Then I searched for him. That time ours withdrew 5 kilometers from us. Though I looked for Baloglan for some days could not find him neither alive nor death. In 28th October I put on civil clothes and went to Iran. After I went about 30 kilometers in the Araz shore, passed to the territory of Cebrail. I passed the Khelefli, Qumlaq and Derzili villages of Cebrail and arrived to the territory where Baloglan fought. It was 11 o'clock. Saw some bodies far from. Felt that the body of Baloglan will be there. I went to 100 meter close to the bodies crawling. I saw the body of Baloglan clearly. He was killed in trench. There were 7 bodies there. Three Armenians stood near bodies and had conversation. I told to God; please close the eyes of Armenians that I could take my brother's body. Then a car was seen near the road. All three Armenians went to the car. I went close to the bodies. Took the body of Baloglan and went far from there. Though it was hard I went for 3 kilometers and arrived to Derzili village of Cebrail. As he was killed three days ago, his body was hard. As I also was hungry and thirsty for some days, had no power to go. Found a hole in Derzili village and hid body of Baloglan there. I closed him with wormwood grassed in order not to let anybody find him. When I arrived to railroad I fell like dead. When I opened my eyes saw that my face is wet. It rained and made me got up. Then I went to one of the homes in village and found mouldy bread and jam. I eat some bread and jam then returned to our soldiers. We went back with another soldier Commander joined me and took body of Baloglan. Then though it was hard we got permission from Iranian officials and brought his body to Azerbaijan. Now Baloglan sleeps in Kocherli village of Terter region. As the region was close to our occupied territory we choose it…"
"He refused from the name of National Hero"
Only the efforts of Baloglan and his fight friends prevent Zengilan to turn into the second Khojaly. Baloglan Suleymanov, that fought until the last bullet with enemy died heroically in 25th October of 1993: "As Baloglan entered inside Armenians, it was impossible to take his body. But they hid this fact from us." When his brother Elman asked from the regiment commander Firufin Shabanov about the place of Baloglan, he showed Iran with his hand. But Elman told that you tell lie, my brother never can leave his soldiers here and go to Iran. Then one of the soldiers told to Elman that Baloglan became martyr for faith. But as he died long before us, we could not take his body…"
He tells that there was presentation twice for giving him the name of National Hero about Baloglan Suleymanov when he was alive. But Baloglan told that he fulfilled his debt in front of motherland and did not permit to send presentation about him to the Ministry of Defense. He told, as if I fight for the name.
Baloglan Suleymanov was honored with the order of "Azerbaijan Flag" by order of state president after his death.
Naiba Qurbanova
"KarabakhİNFO.com"