22.02.2013 | 12:46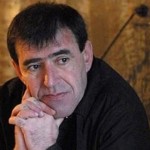 Question: So you mean Khocali was done by Armenians?
The answer of Vanyan: Yes, by our hands…
What happened in the press conference of chairman of the Caucasus Center of Peace-Making Initiatives (CCPMI) Georgi Vanyan in Irevan?
The thoughts of chairman of the Caucasus Center of Peace-Making Initiatives (CCPMI) Georgi Vanyan make Armenians angry: "Armenia turned to the military bases of another country. Sarkisyan closed all negotiations doors with Azerbaijanis after he came to the government". "Today the independence of Armenia is on the paper.". Armenia which declared independence 22 years ago is now a captive of Karabakh and KGB. As the chairman of the Caucasus Center of Peace-Making Initiatives called compromises in Karabakh problem, Georgi Vanyan was declared "national enemy" in Armenia. He told in his interview that, before the presidents of Azerbaijan and Armenia were meeting in boundaries of their countries in order to discuss the objects of regulation of the Karabakh conflict. "Boundaries began to close gradually, such attitude made roots in people's mind that it is impossible to destroy that wall"- Vanyan told.
He told that one of the main elements of war is robbery and getting trophy. Armenia-Azerbaijan war also was robbery war and after the active fight operations ended it continued in social, political and state level. The chairman of "Stop" tells that "all doors were open in front of our organization until 2007. We were working in all regions of Armenia, in Karabakh even in occupied Lacin and Kelbecer. We tried to enter into the society and make people participants of dialog. After 2007 all doors closed in front of us. It showed that we are getting closer to our aims, government is afraid of its citizens. From that time, it was forbidden to realize peaceful initiatives aside of the dictation of government", – G.Vanyan told.
Vanyan was realizing a project. He wanted to make close two nations by using movies. But Armenian racists did not let this. The holders of cinema clubs in Irevan and Gumru refused to give place to this NGO for "Stop" Azerbaijan movie festival. The organizer of festival showed as a pretext that the shepherd Manvel who passed to Azerbaijan was killed. As if nation is angry and destroying the cinema. The project which was realized in three side relationship with Armenia-Azerbaijan-Turkey and by sponsorship of the USA ambassador stayed unfinished. Then when Azerbaijan movie festival did not realize Vanyan wanted to make press conference. We are giving what happened in that conference to your attention. Vanyan was blamed for being in Azerbaijan side and was threatened and was obliged to leave the country, he could not go back to Armenia for some time. You will be witnessed how in conference he was given questions like criminal. We are giving the translation from Armenian language of some part of the conference published in Armenian press (hetq.am).
Georgi Vanyan: " I am public man and my all actions are planned."
Question: By whom it is planned?
Georgi Vanyan: By me.
Question: Who ordered?
Georgi Vanyan: Nobody can order me. I am published since 1989. There cannot be any man who can tell that I made order some day.
Question: In "7 or" (they consider newspaper "7 day") there is an article where you apologized from Azerbaijanis for Khocali…
Georgi Vanyan: I spoke about Khocali in that interview. I openly expressed my mind about Khocali in my meetings in Erevan and in 10 provinces of Armenia. I do not tell these in narrow circle, in seminars, I tell this everywhere- in cultural centers, in schools, in universities and in other social meetings.
Question:  What you have told? It is interesting to us.
Georgi Vanyan: I told what I think is important about Khocali. I come up to this question as public man and defender of human rights. Such situation is formed among our society that they do not work for us. In Azerbaijan it is the same, they do not speak about Sumqait.
Question: Can you answer concrete to the question?
Georgi Vanyan: I mean if they will speak about Sumqait in Azerbaijan then they will speak about Khicali here.
Question: You are putting equal sign here?
Georgi Vanyan: We could make new step in quality and we can escape two neighborhood countries from new khocalis and sumqaits freeing them from secrets.
Question: Mister Vanyan, I want to get exact answer. You put equal sign between Khocali and Sumqait?
Georgi Vanyan: I will answer all of your questions in exclusive interview.
Question: Please, answer now, the question is already given.
Georgi Vanyan: Sorry, but this is my press conference. I already declared the topic. I did not come to military-patriotism tribunal. I did not come to the court. I am asking from military patriots to direct these to upper people, also to Constitutional court. Today my press conference is devoted to why "Stop" festival is forbidden in Armenia.
Question: You were called to radio "Freedom" but you did not go. But now you are making press conference. But why you run from dialog then?
Georgi Vanyan: Please be exact. It was a conference of other one. If it is like this, what can I do there…? You are avoiding from the topic today.
Question: There was concrete question. I am asking for the third time: Do you put equal sign between Khocali and Sumqait?
Georgi Vanyan: Yes I put equal sign. Because both of them were planned by the same center.
Question: From which center? Who realized? Tell this, we do not know. We only know that people were killed from front- by shots from Azerbaijan side in Khocali.
Georgi Vanyan: From Creml. By hands of ours and Azerbaijanis.
Question: You mean Khocali was done by Armenians?
Georgi Vanyan: Yes by our hands…
Now we are going to the main topic of my press conference…
Qafar Chakhmakli
 "KarabakhİNFO.com"