22.02.2014 | 15:45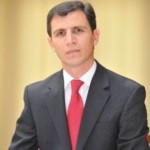 Zahid Oruj
A member of the parliament
Khojali massacre is the most bloody tragedy of the Azerbaijan history. This tragedy was evaluated politically and legally in Milli Mejlis in 1994 under the supervision of our former president Haydar Aliyev. From that time on Khojali event was noun a massacre. All necessary things are being done for the legally spread of this question. The Organization of Islamic Conference and Latin American countries know about Khojali massacre. Our government is trying to do something for the recognition of the massacre on the international level.
I have prepared "The Azerbaijan Republic law about Khojali massacre". My goal is to make Khojali massacre known all over the world. In this document the duties of our government about the ceremonies of the massacre and the recognition og Khokali massacre on the international level can be found. In the decree the celebration of 26 February as a massacre day and the declaration a silence minute at 17 o'clock on that day. It's very important to turn the events hold every year into the item of the law. It's planned to dedicate the first lesson to Khojali massacre at the educational institutions. It must be banned the celebrate activities in the restaurants and bars on 26 February.
We must determine the status of those who suffered from the massacre. Special grant must be given to those people. The killed people should be accepted as "massacre sacrifices", the city of Khojali should be given the status of "massacred city", as it was destroyed materially and spiritually. All this have been mentioned in the law.
The things that are to be done in the area (in case our occupied regions are freed from invasion) have got a special place in this item.
I asked the Parliament leadership for accepting this law connected with Khojali event. He told me to struggle for this problem in international courts, because it was much more important. I think the accepting of this rule can be possible anytime in our countries.
"KarabakhINFO.com"