26.09.2012 | 17:51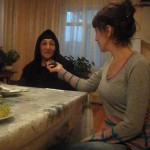 There more than 100 year, world Armenians are working on the idea of "Great Armania from sea to sea". But Azerbaijanians look to the new idea of Armenians' as an illusion, though the enemy is decisive in this way. They are going to their aim step by step using all opportunities of mind, insidiousness and ruse. There are hundreds of historical documents about how Armenians settled in this region in last 200 hundred year. But for our so-called neighbors who pretend as "oppressed", "historically hurt nation" settlement in other's land is not enough. They change their tactics very often for strategic aims. When they can not get what they want in the way of meeting, protests, military violence, they cover their land pretension with 2 Armenian genocide.
In October of 1991 all roads to the city of blockaded Khocali were closed since 30 October and there was the only transport- helicopter. The only hope of the people helicopter landed to Khocali in 28 January of 1992 for the last time. When the civil helicopter was shoot in Shusha sky and 40 azerbaijanian died the only air ties with the city was lost. In 2nd January electric energy was cut either. Khocali people lived and defended themselves only due to their heroism and bravery of city defenders. The defence of the city was organized of local self defenders who armed with hunt guns, local police forces and the fighters of National Army. Since the 2nd part of February, Khocali which was surrounded by Armenian armed forces was attacked everyday from guns and heavy techniques.
In 1992, the night from 25th February to 26th Armenian Armed Forces with the help of motoattacker regiment number 366 of Russia which is situated in Khankendi (Stepanakert) since Soviet period, occupied Khocali and made a genocide against Azerbaijanians. This tragedy is written to the history as the most terrible event during the Mountainous Karabakh conflict. About 2500 people who were in surrounded city left it with the hope to rich the Agdam region. But 63 children, 106 women, 70 old, generally 613 men from that 2500 people who were face to face to death were killed violently. 8 family were ruined. 25 children lost both, 130 children one of the parents. The 76 of 487 people who were killed were children. 1275 people were captivated, 150 were lost.
Talibova Sariyya told us her prisoner life.
" In night from 25th to 26th February there was Khocali tragedy. We were captivated in the village named Onurayox. Then we were taken to the village named Kapik. They beat youth, old people and little children, they killed them. 5-6 armenian men throw us to each other like a ball. First they tortured, then killed. They enjoyed this. They tortured us so hardly, did so many bad things that we would be happy if they killed us. They did many terrible things to our young girls and brides. They choose and took young boys telling "we will kill your commander and sacrifice you on him". We lived such terrible things that even I cant speak about it. When I speak feel like live them again. We were hungry and thirsty. We drunk the water of the rain and snow. We were kept in pig stable for weeks, months.
They killed some of us, then took others telling they take them to Yerevan. We were hostage as the whole family. We were 25 people. Some of our relatives were killed in front of our eyes. Some of them were killed in Khocali. Their bodies thrown to the
mountains, flats. Many of our relatives were captivated and there is no news from them. People who were arrived they changed with Armenians. We are here, but all of us are ill and invalid. Every day I pray not to die and see Karabakh before death.