11.11.2014 | 14:21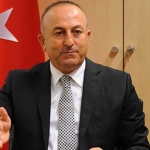 Turkey will never recognize Armenian Genocide – MFA "KarabakhİNFO.com" international e-journal reports quoting news.am.

Turkey's Foreign Minister Mevlut Cavusoglu has stated that it is impossible for his country to recognize the Armenian Genocide.
Speaking at the Turkish parliament, Cavusoglu provided information on the developments in some topics, Gercekgundem website of Turkey reported.

He reflected on the European Court of Human Rights hearing on the case: Dogu Perincek vs. Switzerland, and stressed that they are closely monitoring the respective developments.

And with respect to the events that occurred in 1915, Mevlut Cavusoglu claimed that it is impossible for Turkey to recognize the Armenian Genocide, which is attributed to their forebears and the Turkish nation.

"We stress this every time," Turkey's FM stated.
"KarabakhİNFO.com"