19.04.2014 | 06:35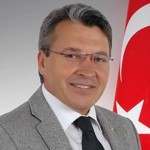 "Every time we deal with this theme; what did Armenia achieve by invading Karabakh in last 20 years? This question must make Armenian people think over."These words were stated by Feramuz Ustun, the deputy from Justice and Development Party of the Turkey Great Nation Parliament, in the interview to "KarabakhINFO.com" international e-journal. "If we analyze the questions about the country, we'll find out that Armenia hasn't achieved anything from the process of invasion. Vice-versa, it made a loss. The country is facing destructed economy and a stream of immigration. Armenia remaining apart from all regional layouts has a questionable future. That is, Caucasus is such a region that if there is peace here, the region will develop rapidly. If not, Armenia will suffer from that most of all"- the member of parliament stated.
The strengthening of Turkey in the Southern Caucasus.
The member of parliament noted the increase of Turkey's influence in the Caucasus even if some forces didn't want it: "It is obvious that Turkey has made an active policy in the Southern Caucasus recently. The visits of personals representing politicians, businessmen from Turkey of Georgia and Azerbaijan has become rapid. What's more, Turkey's strengthening leads to the development of Azerbaijan. That is, the relations between the two friendly countries are on such a level that they are playing the role of peace and security in the region.
Elnur Elturk
"KarabakhINFO.com"