11.03.2015 | 14:28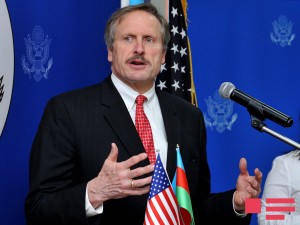 Baku. Mubariz Aslanov –
APA
. "No country has been insured against the cases of violence such as Azerbaijan was subjected to in the recent history", U.S. Ambassador to Azerbaijan Robert Cekuta said at a meeting with Chairman of the Caucasus Muslim Board (CMB), Sheikh ul-Islam Allahshukur Pashazadeh.
He said that even the U.S. was not insured against such cases: "Therefore, we must work together to avoid such cases".
Mr. Cekuta said that as an ambassador, he is very concerned about the events that Azerbaijan was subjected to: "I am very sorry for Azerbaijan's pain, especially events such as the Khojalytragedy and I should learn about it more. This is important to me".