09.01.2015 | 18:03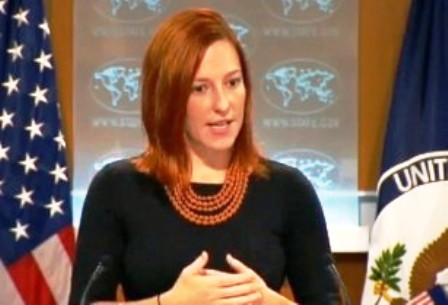 The United States has expressed concern at the latest upsurge in ceasefire violations in the Nagorno-Karabakh conflict zone and called for the resumption of Armenian-Azerbaijani peace talks.
"We are troubled by reports of ceasefire violations as well as casualties in recent days," Jen Psaki, the U.S. State Department spokeswoman, said on Monday. "These incidents do not correspond to the Armenian and Azerbaijani presidents' commitments to reach a peaceful resolution to the Nagorno-Karabakh conflict."
"As an OSCE Minsk Group co-chair country, we do continue to urge … both sides at the highest levels to engage in negotiations that could lead to a peace agreement and adopt measures to reduce the likelihood of such events along the line of contact and along the border. That continues to be our focus," Psaki told a daily news briefing in Washington.
James Warlick, a U.S. diplomat co-chairing the Minsk Group together with colleagues from Russia and France, also deplored the fresh truce violations. "2015 should be a year for [Karabakh peace] and a lasting settlement. Renewed violence is not the answer," he tweeted on Sunday.
The latest escalation of tensions began on January 3 with the fatal shooting of two Armenian soldiers on "the line of contact" east of Karabakh in what the Armenian military called an Azerbaijani incursion. Azerbaijan's Defense Ministry denied attacking Karabakh Armenian frontline positions.
Both warring sides reported increased exchanges of gunfire in the following days, accusing each other of using not only small arms but also grenade launchers and light mortars. The Karabakh Armenian army on Tuesday claimed to have killed three Azerbaijani soldiers in an overnight firefight.
The Defense Ministry in Baku denied that. It reported later in the day that an Azerbaijani warrant officer was seriously wounded after hitting a landmine on the Karabakh frontline.
The parties have also accused each other of firing in recent days on villages located close to "the line of contact" and the Armenian-Azerbaijani border. The mayors of two villages in Armenia's northern Tavush province said their communities came under Azerbaijani fire ahead of Armenian Christmas celebrated on Tuesday.
The Azerbaijani side, meanwhile, said that Karabakh Armenian forces opened fire on Azerbaijani villages in the Aghdam district east of Karabakh. According to the APA news agency, school classes in one of those villages were cancelled because of the gunfire on Wednesday.
"KarabakhİNFO.com"