15.09.2012 | 11:33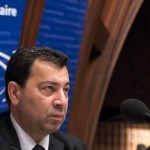 Nagorno-Karabakh issue is a priority for Azerbaijan, so every time we raise it in various international organizations, including in PACE.
The statement came from chief of the Azerbaijani delegation to PACE Samad Seyidov. "We must pay attention to the primary problems within the framework of the Council of Europe. One of them, and most important is the Nagorno-Karabakh conflict. We have repeatedly said that the unresolved conflict threatens not only to the region, but also the entire Europe. Therefore, the responsibility for the failure to resolve this conflict lies with the international organizations, including the Council of Europe.
Heads of international organizations should pay special attention to the Nagorno-Karabakh problem rather than make statements on various issues. Speaking about extradition of Azerbaijani officer Ramil Safarov, Armenians for some reason do not mention that this event occurred due to the occupation of Azerbaijani lands, and the presence of a million of refugees in Azerbaijan. Armenia is constantly raising the issue of the 'nonconstructive' position of Azerbaijan in the negotiations on Nagorno Karabakh, but in fact Armenia refuses to take part in the activity of the committee on Nagorno Karabakh.
As an Azerbaijani side we are doing everything possible for a dialogue between the delegations of Azerbaijan and Armenia within the CE framework. However, due to the insufficient political will of the Armenian side, the implementation of this
dialogue turns impossible. It is extremely important for PACE to intensify in this direction", Seyidov said.