22.11.2013 | 15:55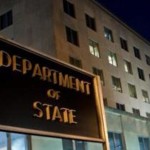 Members of parliament of Azerbaijan and peacekeepers from Kazakhstan and Russia, who were heading for Khojavand to study the situation in the area of Nagorno-Karabakh conflict, died as a result of the helicopter shootdown. "The event was a tragic loss, one of many in that period. The tragic loss of life in the war between Azerbaijan and Armenia reminds us that there cannot be a military solution to the conflict," Spokesperson for the US Department of State Jen Psaki said.



"Only a lasting and peaceful settlement can bring stability, prosperity, and reconciliation to the region," she added.

As a co-chair of the Minsk Group, the United States remains firmly committed to working with both sides, as is evidenced by this meeting to achieve that peace, Psaki noted.

The OSCE Minsk Group co-chairs, who remain the main platform for negotiations between Azerbaijan and Armenia, regularly call on the parties to abandon the hostile rhetoric and to develop confidence-building measures between societies of the two countries.

The last two years were marked by stagnation in Nagorno-Karabakh talks.

Azerbaijan believes the stagnation was due to desire of the Armenian leadership to maintain the status quo through all possible means. As Azerbaijan has announced many times, the presence of the Armenian armed forces in the occupied territories is a major obstacle to break the deadlock in the peace negotiations.

Four UN Security Council resolutions call on Armenia to withdraw troops from the occupied lands of Azerbaijan which Armenia continues to ignore. 


News.Az