21.04.2014 | 13:25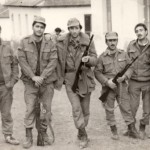 I also had 4 boxes of bullets in that room which I had bought with my own money.
Abilov Shamil Mammad oglu was born in Seyidli village of Agdam in 1969. He served in the Soviet army for many years. In 1990 he started military service in our country. He was born one of the first soldiers of our national army since it was created. He has performed some positions as Regiment commander, Tabor commander an so on.

– Where did you first start the battle?
– There were some villages. Memorable Shirin Mirzayev made a self-protection group and we settled around the lake Khachin. There were a lot of villages such as Alimedetli, Kurdler, Beshirler, Garalar, Aliagalar, Jinli and so on. We began the defence of our motherland from these territories. We defended the country with Shirin Mirzayev's troops in almost all villages of Karabakh. In 1991 Shirin Mirzayev was sending troops for aid to the areas bordered Armenia.One of the areas heavy a terrible condition was Karadagli village of Khojavend region. We were sent to protect that area with a staff of 50. The area was bordered on Armenian villages from all sides. The post where we were, was Umutlu post. I first started the battles from those areas. We had a lot of troubles in that post. There were days when we had no food. The situation was critic. The nights were cold and frosty as it was winter. After we arrived at this post, we began to dig trenches for ourselves. Then we stood in those posts in turns. I stood there usually at nights from 8p.m till 8a.m. My friend Mahin and a villager named Rabil were standing in the post together with me. One night we were in the post. There was a school burnt near the post, and a room next to school. We were using that room to change our clothes. It was the time we bought the bullet with our own money. I also had for boxes of bullet which I bought with my money in the same room. I had saved them there as we were in the blockade. It had got, I left the post to the soldiers so that I could bring some bullets. I took my gun and went to the room. When I returned I saw that there was a torch lighting in the post. I quickly lay to the ground and began to crawl. I approach a little and so several people standing on the other side of the post. From their conversation I guessed that they were Armenians. When one of them was going to cross the post I shot him and hi fell down shouting. Hearing the sounds of gun I want out taking my submachine gun. I approached the post crawling and began to fight. We fought for a long time, eventually we can out of bullets. I had 4 boxes of bullets in the room. I retuned to the room again crawling to take the bullets. With great difficulty I crowded to the room, took the bullets and retuned lack. Immediately I gave 2 boxes of bullets to the 8th post, then shared the other 2 boxes with the 9th post. So we began fighting again and soon all the bullets were finished. At that moment Fizulis came to help us. They gave us bullets and submachine guns. We managed to overcome the enemy though it was very hard.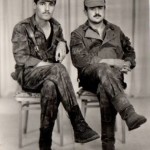 – Which of your battle-mates do you remember?
– I remember almost all of them. Ismayilov Sabir, Kazimov Bakhtiyar, Ibrahimov Hidayet, Gambarov Allahverdi, Natig Jamalov, Arshad, Rabil, Fizuli, Fakhraddin, Mahin. I have so many battle-mates whose names I didn't mention. I can never forget them.
– Please, tell us about Shelly battle.
– I was firstly in Kotel battalion. After I got wounded and returned, we were given a military title. Then we were sent to Shelly post. After arriving there, we made trenches and tunnels. We had made the post so well that it differed from all the posts. First attack by enemies have begun from Shelly. We had some hard battles there. Although the enemies repeatedly attacked us we retuned them destroying a number of their manpower. We have always stabled heavily against the enemies in Shelly post. There were a lot of dead bodies of the enemies between Shelly post and Giziljabel. The enemies almost every time returned back after each attack to the post
– Have you had a succesful battle?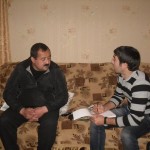 – It was May in992. It was the times when Nakhchivanik bttles had begun. Several battalions headed by Shirin Mirzayev get together and a big attack plan was prepared. The battle was made by Shirin Mirzayev. We attacked with a great force. The attack worked out well. We were given a take brigade additionally. We cleared some villages from Armenians. We remind a lot of live force and tanks of the enemies. During the battle we freed Nakhchivanik, Pirjamal, Agbulag, Dehlaz villages from the enemies. It was our most successful battle.
– Have you ever faced with death?
– Yes, it has happened many times. Once we blocked the road between Balligaya and Kichan. I was fighting with AGS 17 gun in the battle. Our soldier had minomyot gun, too. We started attack with Shirin Mirzayev's leadership. In that battle we made strong stabs against the enemy and shot one of their helicopters. We stayed there for five days. Our battle worked out very well. But I became wounded in that battle. It happened so that Armenians threw grat and everyone hid themselves. I lost myself and couldn't find anywhere to hide. There was a oven near the fence I ran into it and hid myself there. Grat touched the fence and it was knocked down and fell on me. I remained under the fence. The soldier ran immediately for help and pulled me out. I had a bullet proof vest 32 kilos. I couldn't get out without their help. If my friends hadn't come for help I would have died. Such an ancient happened again in that area. I was shot, but the bullet touched bullet proof vest I escaped again.
– Do you think our young people have enough spirit of fight?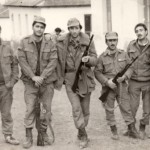 – I think they have enough spirit of fight. Recently we all were fascinated by the dead done by Mubariz Ibrahimov. Mubariz died for his motherland. His courage increases the spirit of fight of our youth. To my mind, there are many young people like Mubariz. I believe it.
– If you're given a command for battle, are you ready to fight?
– I first got the title of little lieutenant, then lieutenant title. In 1993 I was awarded with the head lieutenant title for my deed. If there is a battle command, I'm ready to fight on the front line as an experienced soldier.
Hafiz Safarov
"KarabakhINFO.com"