22.01.2013 | 12:07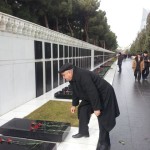 Shakir Agayev: "That is why in the morning Russian army threw grenade with BRDM and burnt enterprise"        
20th January tragedy was an unexpected and hard event for our nation. Though it was national mourning for Azerbaijan, nobody lost mind. The next day of slaughter, Public Funeral Commission was established and the organization of funeral of our martyrs for faith began. Though officials objected this, nation with the insistence of activists decided to make Highland Park the place of funeral for martyrs for faith. But as it was national funeral there was a need to bring martyrs for faith from Teze Pis Mosque to Martyr's Alley in coffins. Shakir Agayev who was a member of Funeral Commission that time, pledged making coffins to himself. We met with S.Agayev and asked him to share hard memories of those terrible days with us.
Mr. Shakir where were you at night of 20th January?
– Those days there were posts from Chirdalan to the city, to the building of Central Committee. My father came from Lachin those days and I was with him. We bought many sausages and 100 breads and delivered them to the people who were standing by posts during the night. Then when we arrived to the city my father get out of the car and threw stones to the building of Central Committee. He said that if he knew that Russian army would come and kill Azerbaijan nation, he would not shot at Germans in 1941-45 years. I took my father home. When I was in Ehmedli, Ukraina square, at 12:00 night, skirmish began. In the early morning we went and gathered dead people from near the Salyansk kazarma, put them into the First Aid cars and sent to the hospitals. I participated in gathering of those corpses.  There was not such savageness in any place of the world. They used tanks, BMPs, modern guns. In front of the Salyansk Kazarma one "Kamaz" passed over one corpse. When we tried to take that dead man, Russian army shot at us. That is why his head stood in another side. We could not take that head. I did not know who took that head then. Then it was mourning in everywhere. They inflict reprisals to our nation. I mean that empire did such wildness. I saw all of those things. I shifted in front of the Alley of Martyr for Faith for 40 days, day and night. At the same time I helped financially to 5-6 martyrs for faith family. They sent me thanks letter then.
–  And how it happened that you were charged to make coffins?
– When they gathered the dead people, I was told that there should be 40 coffins or they do not permit to bury them. Necef Necefov, Khaleddin Khalilov and I went to Sheykh and told him about the situation. Then we went to Qaqarashli who was a chairman of Baksovet. He told that there are nowhere boards. State did not let them. Then I witnessed one thing. Ayaz Mutellibov sent a person that as if dead people died in car crashes. The chairman of Public Funeral Commission Qudret Ebdulselimzadeh told that if you have Azerbaijani blood you should not tell these words.
At that time really there was not any board in anywhere. Generally there was not work. It was about 40 days. A board did not come from Russia. Then I had "Lachin" furniture cooperative in Khirdalan. I told that I will make coffins. I took some people with me. I opened my enterprise and we began working. Then Absheron police helped us a lot. At night police guarded us in order not the army to come and prevent us. We made coffins from night till morning. Then I took them and handed them to the mosque. Then we organized funeral with the help of nation.
– Was there any pressure to you as you made coffins?
– In the morning the security service called me that enterprise is burning. Russian army shot at enterprise with BRDM and burnt it. I did not know then that Yilmaz Axundzade the son of Ehmed Cavad was the first prosecutor of Bineqedi. He told that Shakir is an honorable son of our state. Do not let an investigation begin against him. Many things were burnt there. They registered them there as if 800 manat things were burnt.
Want to note that S. Agayev is a chairman of Karabakh department of National Revival Movement Party. After the 20th January slaughter he established military part in Cukhanli village of Salyan region and participated in Karabakh was until the end. He returned many people captive by Armenians.
Fuad Huseynzadeh                                
 "KarabakhINFO.com"