13.08.2013 | 17:29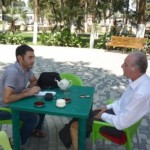 One of the most prominent heroes of Azerbaijan army who fought against Armenians was General Lieutenant Mashallah Aliyev. He was born in Jalilabad on 14th April. He graduated from Polytechnic university. His profession is building engineering. However, he also graduated from the military department of the same university. He served as an officer in Soviet army. This interview would be interesting for you.
    –  Where did you start your fighting way?
    –  I decided to go to the army after he Khojaly massacre. I went from the region directly to Agdam on 8th march, 1992. I was an officer that's why I could maintain stability in battalion very soon. There was Asif Maharramov who was called Fred Asif. He formed a battalion and I also fouth there.
    –  Did you go there as an officer?
    –  Yes, I did go there as an officer. However in war conditions, if you go there for fighting it does not mean anything to you. Ranks are not important for me, I felt myself as an Azerbaijan soldier. a warrior.
    –  Did you participate in the battles for freeing Agdam?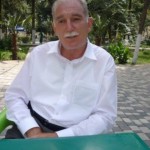 –   No! I was in hospital at that time. We suffered from the lack of clothes and food. We did not have weapons. After my healing procedure finished I joined army again and went to the battle over Nakhchivansky. We could free these lands. Armenians gave enormous loses at yhat time in this battle.
    –  You lost both of your feet, how it happened?
   –   I remember it now too. There was a place calling Shishqaya in Khojavand on 3rd December, 1993. We were going to the battle in Gaz-66 automobile. I was sitting next to the driver. Our car fell onto the mine against the tanks. The wheel in front of my side dropped on the mine and the explosion threw me 5-6 meters away from the car. My comrades got tiny wounds, but I lost both oh my feet. My friends helped me and took me into the hospital. Actually there was snow on the land and the mine could not blow rightly. If it was right, so I could not survive, I could turn into ashes.
    –   Are you satisfied with the propaganda about Karabakh?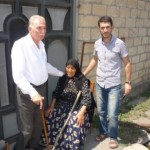 –   I always said it, and repeat again today " The people who are talking about Karabakh should smell gunpowder, not perfume." I am trying to realize propaganda and spend all the effort for holding propaganda in kindergartens and schools.
    –   Which is more difficult for you – to lose your legs or to lose our lands?
    –    It is my honor to lose my legs. I shed my blood over the motherland. We put the seal of motherland there. Not only me, but the martyrs and wounded people. How could I be pessimist that I lost my legs, I I fought for my lands? No, conversely, I suppose it as honor that I could give a small dept in front of my motherland.  However I went there for giving my life. To lose lands is very painful for me. Those lands which were dyed with blood should be taken back.
   –   There is a question which makes me think a lot and I would ask it to you. What do you think about establishment of Patriotism party for promoting patriotism among the youth?
   –  I think it is a very good idea. There are so many parties, and Patriotism party also can be created. Azerbaijan's patriotic young people could join it. Meetings in the regions and military sections could be held.

–   As you know heroism of Mubariz Ibrahimov, Farid Ahmadov, Ahmad Abdullayev eradicated the long-term silence. What can you say about this issue?
  –   M. Ibrahimov created an eminent legend. F. Ahmadov and A. Abdullayev were our scouts, most people knew about them after their deaths. I know Farid and Ahmad from their childhood. I said them in that time that: "You should love your country and our motherland deserves martyrs." There was prepared a spectacular about their heroism and my words were also utilized there. There was silence until these three heroes. We should not try to get back our lands with the aid of international organizations. Karabakh issue is our honor. Azerbaijan soldier is so strong that no enemy can stay in front of him. I am testified it.
    –  Do you want to add something?
    –   We can talk a lot about this case. Why do we present our heroism chronicles as genocide to the world? We are crying and crying. I want to talk about Khojaly tragedy and 20thJanuary night.  Actually Khojaly genocide is chronicles. Our girls and women fought there. 20th January accident should not be recalled as bloody 20th January but glorious 20th January. That day is our martyrs' day. Neither pinks, nor nation should cry on this day. We should not start propaganda from Shah Ismail Khatai, Atilla, but from Khojaly tragedy and 20th January.
During our interview the friend of Mr. Mashalla Asad Salahov also came. We attended the houses of General lieutenant F. Ahmadov, officer A. Abdullayev, soldier N. Elvin ad we met with their parents. We took photos in the end of our meeting.
Vasif Alihuseyin
"KarabakhİNFO.com"