24.01.2013 | 12:38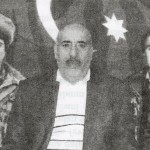 Our interviewer is Nesimi Mehdiyev from Kelbecer region, Qanli village. Though it is strange, from one family 3 person, father and two sons participated in Karabakh war. Then father Sabir was 42, his sons, Nesimi was 20, Fechreddin 18 years old. They were soldiers of brigade number 701.
– Mr, Nesimi, it is strange that you fought in Karabakh war with your father and brother. I think there are not so many fighters like this. We would like you to inform us about this.
-My father Mehdiyev Sabir Ebulfet was born in Qanli village of Kelbecer in 1950. After he graduated secondary school, he had military service in Astana city of Kazakhstan Republic for 2 years. My father was "sergeant" more than his period. He is participant of fights for the territorial integrity of Azerbaijan Republic during 1992-1994. He had hard and terrible fight way for freedom of life settlements like Aydogan height, Aterk, Qozlu, Zerdexan, Chapar, Keremli and so on from Armenian gangsters in 1992. He became deputy of deceased Telman Allahverdiyev who was commander of 3rd detachment of brigade number 701, in summer of 1993. Those times we- two brothers also fought with our father.
– Mr. Nesimi your brother and father were fighting. Did it disturb you?
– It was strange. We did not see each other for days. I thought they were dead, they thought I am dead. We met each other after some days. We, brothers were soldiers. Once I remember there were hard fights, our commander ordered that Fechreddin should come back. But Fechreddin insisted, but it was order and he should obey the order of commander. I understood it then. We had our mother and two very young brothers at home. There should be help for them.
– We lost valuable Kelbecer which has golden mined in those hard fights. We all have motherland regret, motherland languor in our hearts.  We should not loose Kelbecer, but we lost it.
– I generally do not accept the word "we fought with Armenians" because we did not fight with Armenians. We fought with Russians. The distance was so near that we could define them as Russians easily. We did not give Kelbecer. The government of that time gave Kelbecer. Kelbecer was such place that it was impossible to invade it.
– How did you leave Kelbecer?
– First we let inhabitants go. But there were such moments that, Armenian helicopters named themselves as ours and took our inhabitants. It was mistake of the government in that time. Then we got order and went back.
– Were you wounded in fights?
– No. Fortunately I was not wounded. But my father got bullet wounds from seven places. Even now he has splinter in his body. My brother Fechreddins' legs were frozen. Now when it is cold he has trouble. In one of fights my fight comrade Aqil was martyr for faith and his body was in Armenian side. When we got his corpse his nose, ears were cut, eyes were pulled out. Two women were captive by Armenians from our neighborhood. They burnt mother in front of daughters' eyes. We could get daughter after year. But we got Armenian woman with her grandchild as a captive. We did not touch them and returned in the frame of laws.
– Mr. Nesimi what do you want to tell today's youth?
– I recommend today's youth to be patriot and to respect own country. We are satisfied with our president. He buys all guns for our army. Discipline is controlled in our military units. Our army is provided with all things they need. We were fighting 3 people in our family then. Now my two brothers are elder too. Now we are five people. If there will be war we are ready to go to fight as four brothers and father.
Vasif Alihuseyn
 "KarabakhİNFO.com"