28.02.2013 | 11:37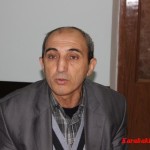 I thought that the events about frozen mother and her alive child in story named "Frozen statue" of writer Anver Mammedkhanli about the II world war are imagined. Until Karabakh events and Khojaly tragedy. Now there are life stories of people from Khojaly, generally from Karabakh which many people would not believe and can be topic for stories. Like hundreds of Khojaly residents that "frozen statue" is written to the fortune.
   How they can tell that the head of son was cut, the body of daughter was burnt, and the white hair of mother died to blood the sister was raped! How they can tell those horrors? How they can tell that the honor of little baby girls are trampled? With which heart, which conscience they can tell this? Which nation can silently listen and accept these horrors which cannot go in humanity name? While listening to the pains, aches of witnessed Khojaly residents human is muffled to the horrible truth mist: even if witnessed Khojaly residents are alive their life is not normal life. The thing which helps them to live is only this strange wanting: if found?!
Khijaly is situated in 10 km south-east from Khankendi, in Karabakh Mountain chain, on the roads of Agdam, Shusha-Esgeran- Khankendi. The only airport in Karabakh was in Khojaly. The main interests of Armenians in Khojaly were its strategic position. Then Armenian side confessed that the main duty of Armenian armed forces was to destroy Khojaly, to empty the Esgeran-Khankendi road passing from that point and to get airport. As Khojaly was attacked from three directions people were obliged to run to the Esgeran direction. Then it was known that it was insidious ruse. The way of people near Nakcivanik village was cut by Armenian armed forces and people were killed wildly. Most of people which were weakened in snowy passes and forests annihilated with special cruelty in Esgeran-Nakhcivanik field by Armenian armed forces. We wanted to inform you Khojaly horrors by narration of witnesses. For this we talked with Kerimov Ebulfet Reshid whose origin is Khojaly. Tragedy decreased his family members as all Khojaly residents. He tells that his separation with his father who was an invalid of II World War does not go out of his eyes for 21 year and every time he remembers that scene with sobbing.
             "When something under our feet was rose up and felt down we knew that a human was frozen there".
–               I became a member of volunteer's battalion since beginning of the war and fought until the last moment in fights in Khojaly. We were on duty once in two days. We had only one gun for two. We were guarding Khojaly in such situation. They were carrying bread by helicopter to us. Our hoped were only to God. If helicopter did not come we would die from hunger. When the last helicopter came we could carry some part of wounded out. If we could carry women, old men and children in time we would not have such lost. We wanted to leave the city, but when we saw that there is no our sisters and mothers again returned to search for them in the forest and in homes. In such situation they killed or took people as a captive. If we could carry old men/women and women in time, our attention would not be in back. They attacked to the city by the help of military technique. The encirclement of Khojaly was narrowing. We felt this. Then we were obliged to leave our homes.
Ebulfet Kerimov who saw and lived the horrors of war told that: "That night as if a God was angry to us. There were such snow that the passage we made hardly was closing until people arrived us from back. When we climbed on the joint snow if something under our feet rose up and fell down we knew that a human was frozen there. Sometimes I cleaned snow and saw a frozen child there. We could count the trees but could not count the bodies of frozen children, old men and women…"
               "… was warming her shawl in the fire and closing legs but after moment legs were frozen again"
–                 My father was invalid of II World War. As he did not have leg I was walking by his walk slowly. We saw smoke inside the forest; first we thought they are Armenians. Told my father wait, I will look who they are. When approached saw the people of our village. I brought my father there. There were our neighbor Seferali, Novreste the wife of Usub and her three grand children. Selti and her daughter Shovket and grand children also were there. The legs of Novreste also were frozen. She was warming her shawl in the fire and closing legs but after moment legs were frozen again. In the evening we thought to move the fire inside the forest as Armenians in higher could see us. After we made fire in the middle of forest we wanted to carry old people to there. Nobody had strength. Imagine that there is no even ant power in people. We carried Seferali hardly to the fire. Then I came to take Shovket. We tried with her mother but could not carry even a meter; instead she carried us to the bottom of the hill. Then we were obliged to leave her there and brought Selti with children near the fire. Mother could not bear and she again returned back to her daughter, her grandchildren also returned. In the morning we saw all of them were frozen. Seferali rolled down the hill. The only powerful was me. Father told me to go and bring help; he told at least you save your life. He insisted that save your life. I saw that there is no use to wait, decided to go. It was found that father knew it is his end, he is freezing. That is why he asked me to go and bring help. Last time I wanted to look at him he did not let, turned his face. Until today my fathers' look breaks my heart. I did not know where I am going inside the forest; I got up only when my head was touching the tree.
              "… In the morning we saw that somebody did not have eyes or ears"
–                 Armenians took me near Dehrez village. They brought us to Khankendi with 19 people. There was new built prison of City Police office there, they kept us there. Most of captives were from Qaradagli, they were taken there before us. They gave us a little water and bread only once in 3-4 days. Every day they beat us, gave torture, in the morning we saw that somebody did not have eyes or ears. We were broken as they beat us. They were two, one hold our head other one leg. They stroke us to the floor. Imagine they stroke captives so much that nails pulled out from the floor, when we were stroke to the floor, nails bored our bodies. When people came from Red Cross Committee they demanded us to tell that we fought with each other. They gave us injection on our clothes how they could. We did not know what injections are they. They were speaking in their language then gave injection to us while laughing. They gave me about 7-8 injection. Sometimes they used Russian words for us to understand. When he gave me injection he told me laughing that this is happiness injection, it will help you be happy. We were two in captivity. Some died others they took to another place or changed. They changed me with woman by help of Allahverdi Bagirov. They did such things to us that I don't have hope for tomorrow. I am in such situation because of tortures they gave to me (he showed his broken fingers- N.G.). I don't know what injections they gave me that I became nervous. I don't believe in that any Khojaly resident laughed or was glad by heart. We will have consolation only when the blood of innocent babies will not be lost. Also if we will again return to Khojaly we will be happy.
Naibə Gurbanova
"KarabakhİNFO.com"