10.01.2013 | 12:08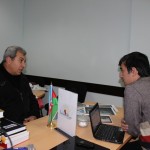 War does not stay in mind only with lost. There are so many things which are formed after the war. For example, the masterpieces of fighter painter Bayram Elioglu. The main line of his art is the reality of war which he was witnessed.  Our conversation with painter was in the same topic. Though it is easy for painter Bayram Elioglu who is working in Azerbaijan State Academy of Fine Art and fighter of Karabakh war to paint war horrors, it is difficult to return to those years.
–  How the interest to painting was formed? Was it your childish dream or the things you saw in the war made you to be painter?
–  I liked painting since my childhood. My parents also directed me to this art and supported me. This interest brought me to the Painting school by name Azim Azimzadeh. Then war began and I joined to volunteer fighting groups in 1991. Since then I paint things I saw in the war. Things I witnessed were base for me. In 1996, after being released from the war I entered the painting department of State Academy of Fine Art. Every painter has his own field. I choose to paint fight scenes.
–  They say, Shah Ismail Khatati who was wounded in Chaldiran war said: Not this wound hurts me, my land which was coincided with arms hurts me". May be, the fortune of our land which shots ruined and our ground which was robbed also has influence on your art?
–  Imagine that, somebody comes and robs the home you had tracks, the yard you were brought up and you cannot do anything. Homes were fired in front of our eyes; we heard the groans of women from communication. It is unbearable to imagine what human feels in that situation.
–  Every moment of the war means death. May be there were situation that you were face to face with death?
–  I had such situation while fighting so many times. I lost my fight comrades, was in siege, even wanted to suicide. But thanks to my comrades they helped me in that situation. Once they sent us to High Qiyameddinli village of Agcabedi urgently. In that time the village was already invaded by Armenians. They took us there for help; we did not know the village. Our commander told that,      Kraus (they called me as Kraus. B.E.)  do not worry, everything will be ok. Then we saw that three tanks came and stood near the hill. So until evening 12 military techniques came to there. Commander told that be ready to half past four, there will be attack and we will fight until death. I was lying under the tree. I saw in my dream that,  our literature teacher came by black car and wanted to take me. But then he said that "your father will need you, I will not take you". When I woke up the fight began. Though we could not enter the Merzili village of Agdam, we could free Yusifcanli and Novruzlu villages. Then our 17 fighters were martyr for faith. When we returned commander told that, you can go home now, but take a photo. Asked why? He said for your grave stone… Then we looked to the eyes of death. We took photos for our grave stone while we were alive.
–  As a fighter who saw the war how do you think, if there will be a war again, should we repeat the tortures which Armenian did us?
–  Every human has specific activity form. But the discipline of fight is written by soldier himself. If my comrades were killed by Armenians with torture how I can act good to them. I think we should act as enemy against enemy.
–  Was there any fight scene that you want to show it by color language but you cannot?
–  Yes there was. There was a horse and its baby. Because of the sound of shots baby pressed itself to mother and mother horse was crying. I saw the reaction of animals to the war and I can never express it with any means.
–  I think we had some mental values that do not let to act to Armenians like them. How do you think?
–  Our prophet told that, act to captives like captive. Give them what you eat and wear. I witnessed one situation. An Armenian woman was captive. She was pregnant. Our soldiers sent her to Armenian side and told her; tell them that Azerbaijanis did not torture me. But you saw what they did in Khocali. They did so many bad things to our girls and women. One of my fight comrades lost his mind from what he saw. He told us: Armenians told us by connection that we are going but left surprise for you. We thought it will be racket or bomb. But hear groan near the territory. We saw that, Armenians tied our soldier to the tree. Bent the branch of tree and tied it to the throat of soldier. So while the tree tautened, the skin of the head of the soldier was stripped. Our soldiers shot that soldier in order to help him not to have agony. Imagine what Armenians did us. Generally, we lost our so many friends in Karabakh war. But I gained good friends too. Today we have constant meetings.
–  Are you working in any painting today? And is that about Karabakh war too?
–  Yes. To be open, I worked on this painting two times. Now I returned to it. The name is "the way to Murov". It will be the painting in literature topic.
Sohrab Ismail
Naiba Gurbanova                                                                                             
"KarabakhINFO.com"