23.01.2013 | 13:24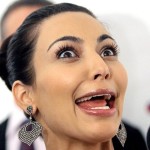 Is she porno star or somebody to whom Armenian lobby has hopes?
Armenians who has no any culture or values to present themselves in the world, tried to steal songs, paintings and art models of Azerbaijanis and other nations in all times. Last days they discovered new figure that can help them in their dirty games- Kim Kardashian. She is their real face, no steal no plagiarism. Even though it is not serious, Armenians use her fame widely for solution of their important problems.
Let's first give information about Kim Kardashian who is called star but is not accepted as star. You can hear the name of 32 years old Kim Kardashian in Great Britain and in USA who is known for reality shows and sexual appearance. There are many people who attentively follow her life. But there are more people who meet her with indifference and open enmity, and see her as an example of poor sign of this period.
But what they think about her fame in Armenia?
Due to the research of BBC monitoring journalist Armen Shahbazyan who lived in Armenia during 2007-2011 years, the photos of Kim Kardashian is everywhere, on front pages of journals, advertisement boards, the walls of automobile wash places and bus stops and so on in her motherland. But due to his words, it does not mean that nation loves her. Shahbazyan notes: "Kim is Armenian and is famous in the worlds. This is enough for every Armenian to be proud of her. But due to cultural and traditional cases, they do not want to accept that she is Armenian and they use stories about Kardashian often in comedy programs".
"There are many people who meet Kardashian's life style negative. Nation does not want her to present the country for her open sexual life and video shots." Shahbazyan also adds that the life style of Kardashian does not look like the life of an ordinary Armenian woman. "She does what she wants, meets who she wants. Armenian girls often meet boys, but they should be boys who will marry to them".
The bitter confession of Armenian expert
The lecturer of public politics and expert of Armenian researches in London School Economics ( LSE) Armine Ishkanyan told that, Kardashian is not even American or British woman: "Though some Armenians in Armenia, and 7-8 billion Armenian in Armenian Diaspora proud of her, it does not mean that all of them wants to be like her. But they use Kardashian's fame for solution of important problems for Armenians. They like her speeches about the slaughter by Ottomans Turkey against Armenians in First World War".
Ishkanyan himself confesses that, if there were Armenians famous as Kim but for successes in the USA and Britain it would be better. But, she also does not forget to tell good words about her countryman-Kardashian: "Today the society is not interested in doctors, scientists, and classical musicians. People are interested in reality-show stars. I think this is not Armenian phenomenon. The whole world is like this. Hundreds years ago empires and researchers presented villages, cities and countries on map. But today actors or musicians, politicians or sport stars do it".
"The propaganda by Kardashian is an act suited to Armenians"
Producer, cinema man Ayaz Salayev tells that neither Kim Kardashian nor her art is accepted seriously though Armenians celebrate her each success.
"As I knew that she is Armenian from her surname, I was not interested in Kardashian like artist. Yes, then I knew that she is porno star. But anyway neither she nor her art is accepted seriously. There is no any genre named porno movie in Cinematography. There can be art peace rich with erotic scenes. As pornography does not enter to bright cinema art, people who play there are not accepted seriously too".
A.Salayev tells that, the use of people who work in art and cultural fields for dirty campaigns does not accepted positive in art world: "If the campaign is for good aims, the attitude is positive. Angelina Coli can be a good example. But as Armenia uses Kim Kardashian for anti propaganda against the countries they think their enemies, is an act suited to them. Also Salayev does not exclude that someday Armenians can use Kardashian as political figure: "Yes, there are some people who go to politics from cinema or art world. For example, one of the ex president of America Reygan was an actor. Or the governor of California state Arnold Schwarzenegger. Of course the field which Kardashian is busy on does not tell that she has normal thoughts or outlook. Also it prevents her to be busy on serious politics someday. But though her art and she is not accepted seriously, her political propaganda in dirty campaigns does not promise good things for us".
Want to note that, Armenians always realized their wishes and wanting using debauched women. There are irrefutable facts, hundreds of masterpieces and notes in history. For example, Friedrich Engels writes in his masterpiece "The Origin of the Family, Private Property and the State Source" that, " Anaitis hisdoruls in Armenia were prostitutes. Armenian slaves and odalisques in Corinf, also religious dancers in Indian temples were Armenian prostitutes".
Naiba Gurbanova
"KarabakhINFO.com"