19.01.2013 | 11:54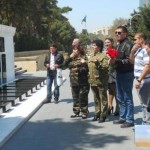 Rukhsare Cumayeva: "the shouts and the sounds of bullets were mixed in streets"
 The hardest day that Soviet Empire caused us was the night of 20th January in 1990. Kremlin wanted to strangle the voice of our nation which wanted to get national freedom with this terror. But the patriot children of Azerbaijan rose to the peak of martyr for faith with their blood and wrote bright pages in heroism epos. One of the young activists of national freedom movement then, Ruxsare Cumayeva was one of the first ones who knew that the troops entered into Baku at night of 20th January. Ruxsare told what she have seen at that night as a witness to "KarabakhInfo.com".
– How do you remember the 20th January events as a witness?
– 20th January is a day when we knew and perceived ourselves as a nation. Our national moral, will, braveness won that day. I do not forget that bloody night even for a moment. Then I was controlling telephones under the security committee which was established then. One of the boys who was in "Square movement" with me called at night and told that there is a call from Nakhcivan and Armenians already entered Sederek. After I got that news the telephone line was cut. After the communication was cut I went to Orus who was a director of central telephone unit. He said don't worry, we will repair the connection. When I returned from there I saw that about 50-55 aged beard people of 3 buses gathered to the garden near "Shusha" restaurant with guns in their hands. I informed my comrades about this. When I saw them it was about 8-9 o'clock and the skirmishing has not begun yet.
– In those days it was the heated times of national freedom movement. People in squares, streets did not go home even at nights. And how did you inform those people?
-Then my comrades told me that it is urgent to inform people about this, to gather them from streets. After some time we heard that the television building was blew up. Then I went to Freedom Avenue. I told to people who were near police station situated Nesimi region, in front of 9 stores building that you should go home because there will be fight. But they attacked to me and beat me. They did not believe in me. They told me that they were charged to guard there and they will not shot. I returned and told my friends that they do not want to go away. They again charged me to go and to tell them go away. When I returned they again wanted to attack at me. But then the sounds of tanks were head. It was about 24 o'clock. When I came to myself, I saw that some people are in blood and on the ground because of bullets. We put them on the car and took them to the hospital.
–  In which side of the city was the main slaughter?
– In that horrible night Baku was dyed into blood. Everywhere were wounded people. Beard people came from Bileceri, Airport road, seaside killed people. Today's Freedom Avenue, "Sahil" garden, "20th January" and "Iceri Sheher" metro stations was drown into blood. The shouts of innocent people, horrible moments will never go away from my eyes.
–  To which hospital mainly you took wounded people?
– When the skirmishing began my left and right sides were full of wounded people. The boy who beat me also was wounded. I put him into the car "Moskvich" and took to the hospital named Musa Nagiyev. I saw that the hospital is full of wounded and dead people. Doctors were confused. There was need to everybody's help. I did not lose my mind. Returned to Freedom Avenue. The shouts and the sounds of bullets were mixed in the streets. People were helping each other everywhere. When I went to our office, a boy named Ibrahim was shot. I took him to the Mosque. I saw more savageness there. Wanted to cry. I thought why they did this to us? What was our blame? I cannot find answer to these questions yet.
– Armed men who made slaughter even shot at the first aid cars. You were witnessed this…
– When I took wounded people to the hospital named Musa Nagiyev, doctors asked everybody to help as they can. I got in the car of first aid and went. Another car was going in front of us. Near the Salyanski kazarma they shot at that cat. The bullets from tank were flying from right and left. Tank went over that cat. All people inside the first aid car became martyrs for faith. Our driver was afraid. We were going in direction of nowadays metro station "20th January". We arrived there hardly. I saw such things there! What was it?! It will be easy for people who did not see it. Those savages even shot at the women in balcony, at child who was going to school. Gorbachov and other criminals who are guilty in this tragedy are not punished yet. They did such things to us that we will not forget until death. Generations after us should not forget also.
Want to note that Ruxsare was born in Zaqatala region. When she was child, was II level disabled from her buttock bones. She got education in Baku Medical Technical school number 2. Then she graduated Baku State University. In 20th January events she worked as a volunteer nurse in hospital. She went to Karabakh war to fight after 1991. Generally Ruxsare participated in the hardest fights in Agdam, Agdere and Kelbecer. Due to her words, she is the first disabled woman who fought in the war. She says some organizations had researches about disabled women and did not meet such women in the world.
Fuad Huseynzadeh
"KarabakINFO.com"