02.10.2014 | 15:26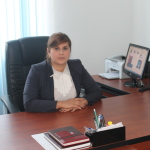 Afsana Guliyeva: "For restoration of historical justice, it is important growing-up of the young generation in the spirit of loyalty and patriotism.
October 2 is the 22th anniversary of the occupation of Khojavend region by Armenian aggressors. In this regard Deputy of Head of Executive Authority of Khojavend region and chief of Department of Public and Political Issues Afsana Guliyeva gave an interview to an international e-magazine "KarabakhINFO.com"
Ms . Afsana how did you remember Khojavend?
I was 7 years old at the time of occupation of Khojavend. It was my first year at the secondary school of Kuropatkino village. However, the damned enemies did not allow me to learn alphabet until the end and I was forced to study in different regions of the country as well as other displaced children. When I remember Khojavand I always thank God and I feel very lucky that I drank the water of that land and breathed its air. At least I have memories about my homeland. I thank God that I have these memories. Filling voids in my heart and endless memories. When the name of land is pronounced native land memories can flash in front of my eyes. It is good I have dreams and hopes. When a new study year started I would dream to go to school in my native village in my childhood. Now, I don't have only dream, I also believe with all my heart that we will return to our homeland-Karabakh.
I think that it doesn't matter who you are any Azerbaijanis who love his native land, has this belief in his heart. I am sure that brave sons of our country as Mubariz are ready to liberate Karabakh. One day it will come true and Karabakh will be liberated from the enemies. I can say these words decisively because we have powerful army and strong Supreme Commander-in-Chief as Mr. President.
We live the 22nd anniversary of occupation of Khojavend. What do you think can years force to forget the bitterness of native land?
Today, 22 years have passed since the invasion of Khojavend region by Armenian terrorists. I think years are not be able cause to forget the bitterness and longing of the native land.
As every Khojavend person I also have longing in my heart for native land. Furthermore, the year pass and we become old and we feel the weight of loss and day by day the pain intensifies. We don't have right to forget our homeland. Because we have history, literature, culture and past in those lands.
They said people who forget their past they will not have a future. On the other hand, the blood of our martyrs, their spirits which wait revenge call us not to forget it. The spirits of our martyrs will rest when we come true their dreams.
Do you think Karabakh realities are taught to young generation enoughly?
20 percent of the our land is under occupation, a large part of the historic territories was united other countries' lands. For restoration of historical justice, it is important growing-up of the young generation in the spirit of loyalty and patriotism.
Strengthening of patriotism among young people is closely linked to the educational process. The meetings are held in educational institutions of the region on a regular basis with Khojavend veterans and families of martyrs and events are held in the anniversary of the occupied territories, intellectual competition called "The glorious history of Karabakh " is organized in every year. In addition in the hall of our schools, classrooms information about the occupied districts was placed , the martyrs' pictures hung in the stands.
All impact to students who has love in the heart for the country. However, in my opinion, activities which I mentioned above are not sufficient for young generation for teaching truth about Karabakh. There is need to print a lot of books about the history of Karabakh, Armenian-Azerbaijan Nagorno Karabakh conflict. I must note that we are preparing books for this purpose. The lessons about " The history of Karabakh" will be taught to students with the order of Ministry of Azerbaijan in 2014-2015 academic year. I hope the teacher will be able to teach main points of this conflict to the students.
How would you describe the general level of education in Khojavend? How has the occupation affected to education?
At the end of the XX century as one of the most tragic conflicts of the history which undeclared war with Armenia changed the fate of thousands of people, including Khojavend people. This occupation destroyed the peaceful lives of the inhabitants of the region, achievements made in all areas. They stole the right of living and working in the homeland of people and they forced to live them as a refugee. Back on the war years there are only remains of ruined human lives and modern cities which had been destroyed during the war. As the population of the other occupied regions of the country Khojavand people ran to various cities and regions of country and settled various buildings, sanatoriums, schools, dormitories, kindergartens, tents and so on. Scattered living of population had impacted to education and schools became unusable.
However, as a result of the wise and judicious policy established by the national leader Heydar Aliyev and continued successfully by President Ilham Aliyev, education developed quickly. Khojavend schools which are situated in old and unfit buildings were moved to good conditioned buildings and provided by modern material technical equipment .

I would like to say with big responsibility and a sense of pride the school which built in the settlement of Khojavend, President Ilham Aliyev and his spouse Mehriban Aliyeva attended at the opening ceremony of the school on 8 October, 2008. I would like to point out that most of the teachers in our schools who are involved in the education of students are from our district and there are some teacher who got the title of Honored Teacher and Progress Medal. The graduates of our schools show the high result on the university exam and continue their education in the top univerity of the country.
"KarabakhİNFO.com"