09.04.2014 | 06:40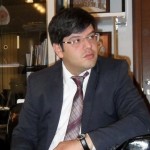 Zaur Gariboglu: Karabakhinfo.com has become a headache for Armenians in online information war.
Which phases has your website gone through since its launch?
First of all, I want to wish good luck to the portal www.1905.az, which is a large-scale project of the Association for Civil Society Development in Azerbaijan (ACSDA) and aimed at informing the world community about genocidal crimes committed by Armenians against Azerbaijanis.
The availability of such sites that belong to the ACSDA family will play an important role in preventing the dirty campaign of Armenians against us in the information war. The most horrible tragedies in the Azerbaijani history after the relocation of Armenians to our lands started in the end of the 19th century. The tragic events that happened in 1905-1906 and in 1918 are bloody pages in our history. Because we had not learnt from historical lessons, the war initiated by territorial claims of the Armenians in 1988 resulted in occupation of 20 per cent of Azerbaijan`s territories. Over one million Azerbaijani citizens are currently living as refugees and internally displaced persons, while tens of thousands of Azerbaijanis were killed, taken hostage and/or crippled by Armenian armed forces. Ancient historical and cultural monuments were destroyed in our occupied lands. The Azerbaijani state and society utilize a variety of means to deliver this injustice to world community. The first of these means is the "karabakhinfo.com" (www. karabakhinfo.com) international electronic journal initiated by the ACSDA President, MP Elkhan Suleymanov. We launched our project in Azerbaijani, Armenian and English in April 2012. Currently, our work is expanded to 10 languages (Azerbaijani, English, Armenian, German, Russian, Turkish, Spanish, Italian, French and Arabic) and becoming a headache for Armenians in the online information war. As the editor in chief, I was initially responsible for posting information in news, debate, research, witnesses, facts, interviews, culture, and literature sections. I was collecting and posting information even during sleepless nights. As our project expands, our staff consisting of more than 25 persons fights the Armenian propaganda in the information war. A few days ago, www.panarmenian.net, one of the most popular Armenian websites, reported about us and acknowledged our superiority – it proves that we are achieving our goals. We can confidently state that the "karabakhinfo.com" international electronic journal which has involved political figures, as well as experts conducting researches on Karabakh over the years, is able to fight the Armenian political propaganda.
What are your next goals?
As for our next goals, we have been carrying out the www.karabakhinfo.TV project on the Internet for three months. We have prepared programs in the military units, borderline regions. By preparing TV programs and news in various languages, we intend to deliver Azerbaijan`s fair position to world community. Increasing the number of languages in the electronic journal to 15 is also among our priority targets. Our plans also include organizing presentations at Baku State University, Azerbaijan Pedagogical University, Azerbaijan Tourism Institute and other colleges, inform professors and students about the www.karabakhinfo.com international electronic journal. We have already launched a group of Azerbaijani friends consisting of foreign nationals, in social networks. Internet users use a variety of social networks today. We create information groups in social network for particular countries and languages and inform world community about Karabakh realities. Many foreigners have joined our groups in Arabic, Italian, Spanish. We want to increase the number of such groups. We also plan to establish the Karabakh Library in our office and involve scholars and students interested in Karabakh.
Let`s switch to the writer Zaur Gariboglu. What are you working on at the moment?
As you know, I am a writer. As the editor-in-chief of www.karabakhinfo.com, I am in charge of a hard task: to respond the Armenian misinformation in online information war. Despite my responsibilities, I continue my writing works as well. At present, my two books, which are sequels of Drawings of Thought, are to be published. The printing is delayed for some reasons. My essays are published. I also write poems. I read the Azerbaijani authors in parallel with the modern world literature. Although I don't have enough time, I try to read as many authors as possible to get the idea. As for me, I write for tomorrow, not for today. History will filter and evaluate my works. Large stones will remain, while all dust will be sieved. I do not claim that my works will be among those stones as we cannot give an unbiased assessment to today`s literature. Time will give this assessment. Today`s popular persons may be forgotten by history tomorrow. In the past, there were famous writers, whom no one knows today. They earned fame and love, but ultimately became forgotten because they did not write for tomorrow. There are also examples that some writers, who were not accepted by their contemporaries, are recognized and admired today.
One more question about the electronic journal? Is it the only electronic journal about Karabakh?
Yes, it is indeed the only electronic journal that spread truth about Karabakh in 10 languages. So far, we have achieved a great success. Nearly 100 well-known domestic intellectuals, including politicians, cultural figures, sportspeople, scholars, have stated positive feedback about the journal. Under the slogan "OUR GOAL IS KARABAKH", we have sent emails containing information on www.karabakhinfo.com to numerous foreign nationals, as well as official administrations and parliamentarians of nearly 30 countries, international organizations and various companies, non-governmental organizations, influential media outlets, universities and other educational institutions, and even former government officials. Our office has hosted many meetings with Karabakh war veterans, public figures and politicians, youth, internally displaced persons, comprehensive information on the activities of the international electronic journal been given. Over the past year, nearly 50 web portal and newspapers reported about www.karabakhinfo.com, referred to its materials. I want to note one more issue. In his speeches at international conferences, the ACSDA President, MP Elkhan Suleymanov repeatedly stressed that the Nagorno-Karabakh issues is not a conflict, but Armenia`s military aggression against Azerbaijan. As the editorial staff of the website, we also inform the world community about Karabakh realities as Armenia`s military aggression against Azerbaijan. It indicates our real power in online information war. I would like to express my gratitude to the ACSDA management. Elkhan Suleymanov, the general director of the journal Vali Alibeyov, the general director of Heydar Aliyev Heritage Research Center Fuad Babayev have always supported our activities. Our main motto is President Ilham Aliyev`s following quote: "Today I can confidently state that we are winning the information war against Armenia and the Armenian lobby. Their nervous and hysterical actions lately show that we have achieved great success in the information war." We try to deserve these words.
1905.az