10.01.2015 | 13:39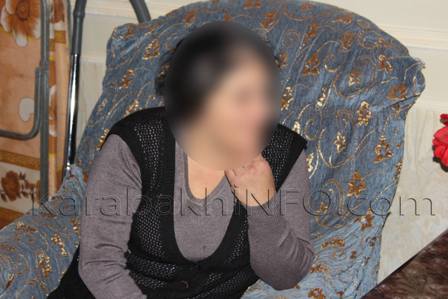 The next guest of the"Innocent sinner" project of"KarabakhİNFO.com" e-magazine is Armenian descent woman Marita Askerova living in Baku
Some of the Armenians of Baku who did not leave Baku after the Nagorno-Karabakh conflict did not avoid to hide their nationality during the 1999 census conducted by State Statistics Commeittee . At that time, with the exception of Nagorno Karabakh, close to 700 Armenians have been registered in Azerbaijan
to the committee during the census conducted in 1999 did not avoid to hide their nationality. Thus, only 700 people living between Azerbaijanis did not refrain from expressing a clear Armenian nationality.
In response to a request letter "KarabakhINFO.com" e-magazine on the this subject to the State Statistics Committee noted that, according to the results of the 2009 population census, the number of the Armenian population of the Republic of Azerbaijan amounted to 120 thousand 306 people on October 20, 2012. That is 1.3 percent of the population is made up of Armenians.
But the various state officials, MPs at different times said that a number of Armenians live among us and the most used number is 30 thousand people. It is not important so much becoming less or most of this number. In fact, there are still Armenians in our country and they have equal rightswith Azerbaijani citizens. But there is not a single an Azerbaijani in Armenia. Becausethey pursued a policy of ethnic cleansing and expelled all Azerbaijanis from their homes.
We were interested in a few Armenians who live in and around Baku and surrounding territories and talked them about their living conditions and reasons of staying in Azerbaijan and other issues.
We had interviews with Armenian Janette Mamedov last time, at this time we will talk about Armenian women Marita Asgarova Yashar living in the Karadag district.
"I have already forgotten my Armenian identity"

We entered into the courtyard house with an iron gate. This house distinguishes by Janetta's house its luxury and neatness. When we saw a middle-aged unhappywoman talking loudly in the yard we did not doubt it will be exactly the same woman …

"I do not know where it is appeared ,I live here for a hundred years, no one has ever came and said who are you?! Now they came and said thay you are Armenian and you must speak and blah blah blah. I'm not Armenian! I've lived here for several years, until today how do Armenian preserve his identity ?! What will I talk about them? I have never seen them (implies Armenians – N.Q.)! ".
– Are not you Armenian? She was startled from this sudden question:
– Who says it, I opened my eyes here and I have only seen here.

– In any case, if possible introduce yourself, let us know who you are…
– Asgarova Marita Yashar. My parents were Karabakh Armenians. They are from Khindiristan village of Stepanakert region (Maritasays Stepanakert to Khankendi district- N.Q.). Before I was born they moved to Baku, Gizildash settlement.

I was born in 1963. I went to the high school here. I was married at the age of 16.

– How did you meet your husband? If we consider that he is non-Armenian, it's probably not so easy to build your family?

– We were neighbors with my husband. When we married people did notapproach the issue of naionality so seriously. They did not pay attention so much to Armenian nationality. Therefore, we did not face with a serious obstacle. We love and married each other. In 1980 he kidnapped me . After a year my son was born. Then two daughterswere born.
"I pray namaz, fast oruj and engage worship"

– Does anyone know that you are Armenian among your neighbors and how do they treat you?

-I was born here and live for many yearshere. Therefore, all know me, they have very normal attitude to me. They treat me like other neighbours. When I opened my eyes I have seen these people here, have considered them like relative. Therefore, It seems strange to me give interview as an Armenian. I thought that , what's my difference than other people they want to ask me something. I'm already forgotten my Armenian identity.

– Why did not you change your name? Because some Armenians who live here have changed their names…

– Yes, I have not changed.Most people saysRita, but some of them says Maryam to me. I can not say a word about who changed their names. "I pray namaz, fast oruj and engage worship". It will be sin if I talk about people I don't know. After I was born I saw Islam around me and I worship this religion.

In the meantime,we note that when we start the conversation with Armenians all o of them said that they had converted the Islam and engaged worship.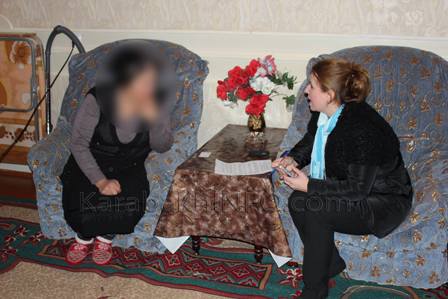 "… I can not live with any nation "

– Do you have connecion with relatives living abroad?

– I don't have relative. I have two sisters besides me, they live in Russia.

– How do you keep in touch?

– By no means. Sometimes a sister who lives in Russia call me. There is no tidal.

– Do not you want to go?

– Why would I go, I have already grandchildren, I have everythingwhateverGod can gives us. I do not need anyone else. If they call and if I'm forcedI would not go there. Here is my homeland. I can not live with any nation except Azerbaijanis. So my life will be over here.
– In which way you want to resolve the conflict asa citizen of Azerbaijan?

– I want they return the lands and finish the war , we live in a peaceful lifesyle as before.

– You mean Azerbaijanis and Armenians live together?

– Yes, I want the end of war and rumors.

– The current situation in Armenia on television … (Marita interrupted our words our question remains unfinished. But she understood what we mean).

– I do not look at anything. My daughter-in-law is witness of with God that I'm not interested in anything. I have been listening only to mugham, look at those who sing this music.

– Do you have a tradition in your home as heritage of your parentswhich you remember in festivals, ceremonies?

– I opened my eyes and have seen the Novruz holiday, we have boughtgifts in each other. And nothing else.
"She does not consider herself as an Armenian"

Meanwhile,decorated "Christmas tree" in the corner of the house caught our eyes. Ms. Marita said that she decorated "Christmas tree" at the request of small grandchildren. It feels clearly that Ms. Marita did not want to pronounce the name of nation during a conversation. We repeatedly ask what nation her sisters' husband belong but she said they are from Baku and passed over this isssue. We asked are they Armenians who live in Baku and she answered both "yes" and "no". We learned with great diffuculty that she has two sisters besides her and ther married with Baku Armenians, in the beginning of the conflict they went to Russia and live there now. Ms. Marita replied the question of "Do you keep in touch with them" in its own way both "yes" and "no".

– At the beginning of the conflict – how do you remember the year 1988 and from what were you afraid of?

– Of course, I was worried about the fate of children. Thanks to God, I regulate the issues about my children, and I live in a completely safe condition.

We ended the conversation and left Ms. Marita. Marita's Azerbaijani daughter-in-lawwho waiting for us outside apologize for the complaint of her mother-in-law before starting the conversation: "You know, do not blame her. Until noweven one word was not said to her about Armenian identity and noone interested in about her. Therefore, it seemed strange to us. Because he does not consider herself as an Armenian. "

We're face to face with another fact. Once again, we are confident that the Armenian mothers-in-law have a lot of "surprises" for Azerbaijani daughters-in-law and sons-in law.
(To be continued…)
Naibe Gurbanova
"KarabakhİNFO.com"