15.10.2014 | 15:09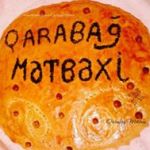 Karabakh cuisine is distinguished by its unique taste from the cuisine of other regions. Karabakh cuisine is so rich that we can talk about more widely. Aghdam cuisine has a special place in Karabakh cuisine. We talked with the famous chef Mehman Zeynalov about ancient and popular meals of Aghdam.
Khengel was cooked for Karabakh Khan for the first time.
According to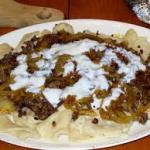 M. Zeynalov one the most favorite meals of Aghdam and Karabakh people is khengel: " Khengel was cooked for Khan in Karabakh for the first time. Kneading and cutting dough, beating the meat took a long time. When the meal was ready they called " Khan gel" "Khan gel" cheerfully (it means come Khan). The name of the meal was taken from it. According to reports the most delicious khengel was cooked by a cousin named Afet of Khan's daughter Natavan. Khengel is a dish of Khan – Khan,gel (come)
Doshemeli pilaf (Golden Crust for under Rice Pilaf)
Rice pilaf a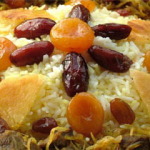 lways must be on the table of Aghdam people. One of their most beloved pilafs is " Doshemeli pilaf". For preparing of ashgara (garnish) of this pilaf lamb , beef or chicken are boiled, onions are cut and fried, they mix with each other, then chestnuts, dried plums and apricots are arranged and all cooked together. The rice is drained in a large fine-mesh strainer or colander and crusts are cut. They are arranged into saucepan and one layer of it fried.
Half of the rice is poured and ashgara is added to it. With the rest of rice ashgara is covered and yellow ginger and saffron are sprinkled to it .
Avdal qutabı (Stuffed Flatbread)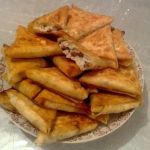 According to Mr. Zeynalov one the favorite meals of Agdam and Karabakh people is kete: " It is a pity that our nasty enemies Armenians introduce kete as their national meal on social networks. We sometimes call our native kete as gutab. It would be better not only cookers also everyone spreads the tiding and taste of Agdam kete all over the world.
One of the lovely meals prepared by my grandmother and and mother is "Adval gutabi". Before the occupation of Agdam relatives and neighbors gathered near the oven cooked bread , rolled dough, made khengel and made a bread poultice. I saw that "Adval gutab" made from bread poultice. Bread poultice can be substituted with flatbread. For preparing this, flatbread is cut in particular order and is got triangular-shaped bundles. Stuffing is made from rice and bean. According to taste, raisin or small chopped plum can be added in it. Sour lovers may also use zirinj (dried barberries). Triangular-shaped bundles are filled and fried with oil.
Gunel Jalil
"KarabakhİNFO.com"