03.12.2014 | 15:57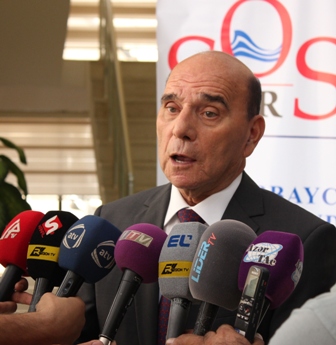 Elkhan Suleymanov
Chairman of Azerbaijani Delegation to the Euronest PA
Mr. Martin Schulz
President of the European Parliament
Dear Mr. President,
I am grateful to you for your response to my letter dated September 2, 2014 calling on the world community to take urgent political, diplomatic, military and other measures in order to overcome terror acts, different kinds of violence and vandalism acts in Iraq and Syria, and other parts of the world.
At the same time, taking this opportunity, I would like to highlight that I have addressed you 3 letters on different issues within the last several months, requesting you to comment. However, you replied only to my letter on developments in Iraq and Syria, but remained silent regarding the other two important issues. These two letters include the address dated September 16, 2014 regarding some information covered in urgent motion for resolution submitted by German MP Alexander Graf Lambsdorff on behalf of ALDE Group and the address dated September 23, 2014 on "Why should Azerbaijan remain in the Euronest PA?".
I believe that recent developments prove the necessity of the above-mentioned letters. Your silence can only indicate a biased attitude against Azerbaijan, while your unreasonable accusations throw a shadow over the objectivity of your function. I would like to quote your words from this award ceremony: "The European Parliament calls on the Azeri regime to release without delay this innocent woman, whose health is deteriorating day by day."
Apparently, you question the legality of the detention of this "innocent woman", thus, questioning the independence and competence of the judicial system in an independent state – Azerbaijan. Furthermore, you call for her immediate release, without mentioning any legal mechanisms for this purpose. Thus, this is a common case for you, in the example of Azerbaijan, to disrespect judgments of the courts, showing that respect for the principle of rule of law is not important when it comes to our country. Subsequently, this indicates disrespect not only to declared European values, but also to the Republic of Azerbaijan.
How can the President of a significant political institution, like the European Parliament, call a person convicted of treason and corruption crimes as "innocent woman"?! You, as President of the European Parliament, undermine the positive international image of Azerbaijan with your irresponsible accusations. In your speech, you call on to release Leyla Yunus without delay. Do you have any arguments regarding her illegal and groundless detention? Currently, Leyla Yunus is under investigation…
On the other hand, could any prominent public and political figure demand to release a person, who is investigated in the European zone? How would you and your country react in this case? Certainly, the reaction would be negative. Then why do you apply this model to Azerbaijan?
Apparently, your partners and officers, who are encouraged by your anti-Azerbaijani speeches, forward to you false information in order to ensure a negative global image of Azerbaijan. You're so pleased with these lies against Azerbaijan that you do not even try to examine them.
The Azerbaijani public deeply regrets your disrespect to your status and signature. You remain silent to just demands of Azerbaijan and my letters to you, as Vice-President of and Chairman of Azerbaijani Delegation to the Euronest PA, even mostly answer them without reading. For example, your letter dated October 17, 2012. I quote your reply: "I hope that Armenia and Azerbaijan will overcome their difficult conflict over Nagorno Karabakh."
Thus, you just forgot or wanted to forget about the importance of liberating the Azerbaijani territories from armed Armenian occupation within the framework of internationally legal standards. You didn't want to talk about the elimination of the occupation at all and charged aggressor Armenia and Azerbaijan, subject to aggression, with the responsibility of its solution and thus, once more confirmed the indifference of international organizations, also that of the European Parliament to this issue.
I'd like to underline that the Azerbaijani society closely follows the activities of international institutions, as well as of the European Parliament regarding Ukraine. The Azerbaijani society demands from the European Union to show the same level of support for Azerbaijan, the 20% territory of which is under occupation for over 23 years, as is done for Ukraine today.
My voters, 17 members of our delegation to the Euronest PA and their voters ask us: Can Azerbaijan expect true equal treatment from the European Parliament following such anti-Azerbaijani propaganda by Mr. Martin Schulz, as President of European Parliament, house of freedom and unity?
Finally, I'd like to remind that my letters addressed to you on 16.09.2014, 23.09.2014 and others remain unanswered yet.
"KarabakhİNFO.com"