15.08.2013 | 07:33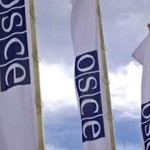 Armenia is realizing another manipulation between the West and Russia. Accepting Russia's all calls with open heart now trying to make them angry with formal imagination of euro integration. However official Erevan was one of the first countries who supported Euro Asia coalition and they uttered that they will be very active in the activities of this organization. Contrary to this position Armenia tries to form new cooperation with European Union in the frames of European partnership. Therefore Armenia is preparing to sign a new associative agreement together with countries like Moldova, Azerbaijan, Ukraine with European Union in Vilnius in November. Armenian's two-headed policy definitely does not satisfy the West.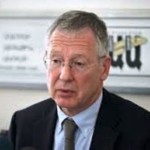 Therefore, West asks Armenia to choose its coalition and Armenia faces now with new dilemma. The donor country of European Union Germany's ambassador Rayner Morel in Armenia gave an interview to "Novosti Armenii" agency and he touched several items which were directly pertinent to Armenian's choice. According to the words of R. Morel each state is independent to realize its trade affairs with other countries. "Armenian's choice is its own business" said the ambassador. He added the fact that Armenia is bringing by its "proprietor" Russia to Euro Asia coalition: If Armenia took as a prority to join this coalition it means that Armenia wants to live under different conditions and laws.
Being a member of this coalition will prevent Armenia from free foreign trade policy. Armenia will lose its independence and freedom again which was gained after USSR's collapse.
He put a concrete condition in front of Armenia with saying it – Armenia should do its choice by itself. " Armenia will lose the chance of holding negotiations with us after joining the Euroasian economic organization. Holding negotiations will change its status, if previous debates were on the high status like state and organization, after joining it will change the color. Next debates can be on the status the European Union and the member of Euroasian coalition or dependent land piece.
Europeans will never recognize Armenia as a protector of Karabakh.
Social-economic conditions are decreasing in Armenia day by day. They are face to face with historical trial. They cannot rid of Russian pressures which make them to join Euroasia coalition, but they also want to maintain relations with European Union. So they are in front of the big question which can solve their fates – Russia or Europe. It is apparent that Armenia will not get the things which they wish from Europe. The interview Regnum of the Czech expert, a member of East and West Center Association Erike Leren confirms our interpretations.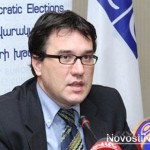 Expert noted that the document which will be signed between Russia and European Union may not be ratified. He indicated as a sample the protocols signed between Turkey and Armenia. Furthermore, he added that after ratification EU will supervise the items in the documents with attention. Lerner stressed that Armenia is not able to cooperate both with European Union and Euro Asia coalition. No one in the European Union prohibits Armenia to cooperate with CIS states. However existing in two different economic location will not be accepted. So Armenia should make its choice. Sometimes people talk about the pressures made by Russia and EU to Armenia. However, in my opinion Armenia is not in the situation that two powers are fighting for him. We should add here geopolitical circumstance too. After the choice made by Armenia reveals the pressures can occur. We are reading from mass media that the prices of gas are enhancing, and some attack weapons are selling to Azerbaijan. Eastern Partnership program does not want to take Armenia from Russia's orbit, it simply presents an alternative way to them."
The journalist of Regnum asked the question to the expert that, Armenia, Georgia and Moldova are key states of Eastern Partnership. However there are other issues which join these countries. Like the land problems existing in these states. Nevertheless, the expert corrected the journalist's question and uttered that " I could not characterize these three states as countries with land problems. There are territorial problems in two countries. The problem related to the territorial integrity is not the problem of Armenia, it is pertinent to Azerbaijan. In different periods of history some lands from Azerbaijan, Moldova and Georgia were cut from these states. Undoubtedly, Nagorno-Karabakh conflict is very important to European Union. The members of European Union, other countries and also Armenia do not recognize Nagorno-Karabakh as an independent state. There is no country parliament which accepted a document about this issue. Therefore, Karabakh is officially Azerbaijan's territory. Europeans will never recognize Armenia as a protector of Karabakh. Do you know that a diplomat who was accredited to Armenia has not got a right to go to Karabakh? Do you know that if a European citizen fell in a bad situation in Karabakh diplomats which were accredited to Armenia can not show diplomatic or consulate help. For these reasons European Union will differentiate Karabakh and Armenia in economic political spectrum.
"Undoubtedly, Armenia will choose Russia in the difficult circumstances."
Russia hinders Armenia to maintain close relations with European Union in all cases. On the other hand there is Karabakh conflict on the agenda. There is "aggressive country" spot on Armenia. It is unquestionably accepted that European Union will not allow Armenia very close.
Member of the Parliament Aydin Mirzazadeh in the statement to our e-journal uttered that Armenia is in front of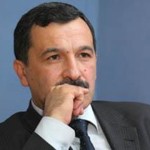 the choice.. " Armenia wants to utilize the benefits of Euro integration, on the other hand wants to have Russian support. Armenia has never realized independent policy. The country which always needed Russian support and help can not cut its relations. They can survive only with Russia. There is no possibility that Armenia without Russia. In other words they can lose everything they accomplished without Russia." According to the words of MP Armenia is trying to lengthen this situation for this reason. " They give some hopes to Europe. Then send some feeble messages to Russia. Certainly, they will choose Russia in case of a question."
A.Mirzazadeh touched to the European enlargement policy and their postpone due to obtaining mutual agreement among Central and Eastern European countries. He stated that it will take much time:" Though Georgia attempted to join European Union and NATO they were diplomatically explained yhar it is not on the agenda. Furthermore, European Union is not interested in accepting of the one state from South Caucasus. If EU accepts the membership so 3 of them will be accepted. If EU will not accept so 3 of them will be anticipated till the same time. Azerbaijan does not worry about this situation. Georgia also can live with its resources without getting European Union membership. However, Armenia is not able to survive without help and support. So their hope to get European membership is equal to zero. Therefore, they need the whole integration, if it is half integration their problems can enhance. So they do not have any choice from joining Euro Asian coalition and being with Russia."
Armenia will have more problems in front of the choice.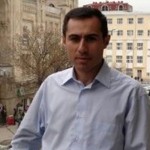 The chief of the Caucasus Strategic Researches Center Araz Aslanli also utters that Armenia will be in the scopes of Russian influence. During our interview Araz Aslanli cited that Armenia realized several activities and put some steps forward for accomplishing European integration. "Nowadays the most important challenge for Armenia is security problem. Their security can be provided with the help of Russia."
According to his words Armenia should realize two-headed policy today. "Therefore, this country both invaded the lands of Azerbaijan, and does not have good relations with neighbor countries. On one side they try to get guarantee to their military security. On the other hand they want to maintain relations with international organizations. Furthermore Armenian lobby also has valuable role on promotion Armenian policy. Armenian lobbies are very active especially in western countries. Armenian lobbies play a considerable role prone to maintaining Armenia's political economic and military existence.
The chief of the center cited that it is very normal that Armenia protects its military security with ythe help of Russia with giving an imagination of Euro integration. " However in crucial moment Armenia is the member of both Collective Security Treaty Organization and CIS. Armenia will face with more challenges in front of the choice. The steps realized with Europe will somehow affect relations with Russia and it will reveal contrast. They join Russian leading integration procedures very actively, because they do not need to give critical decisions."
According to his statement the solution of Nagorno-Karabakh conflict will definitely positively affect Euro integration of Armenia.
Fuad Huseynzadeh
"KarabakhİNFO.com"